News
Youngkin Claims McAuliffe Is Bringing In Big Names To 'Take the Spotlight Off of His Failed Record'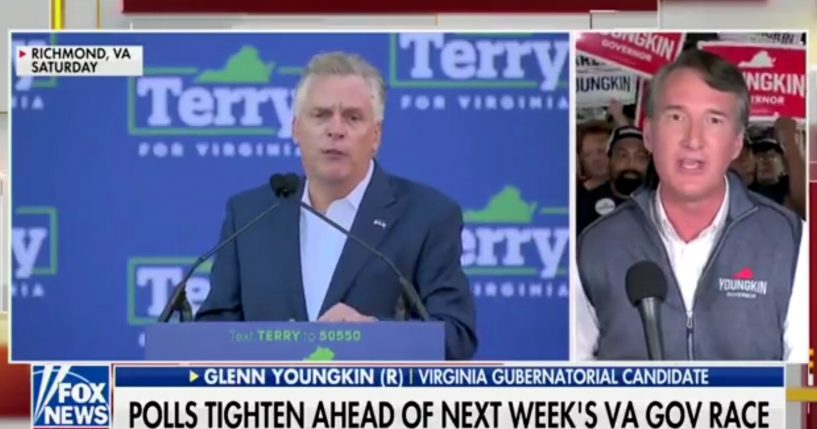 Virginia Republican gubernatorial nominee Glenn Youngkin is taking aim at his opponent, former Virginia Governor Terry McAuliffe (D), over his use of big names to try to cover up his "failed policies."
Youngkin told Fox News Monday, "The sun is clearly setting on Terry McAuliffe's 43-year political career and we're all watching it. And he's doing anything he can to just try to survive."
He added, "It's Virginians recognizing that lower taxes and the best schools and the best jobs and safe communities are the issues at hand. And McAuliffe doesn't want to talk about any of that because he's on the wrong side of all of it."
Advertisement - story continues below
He predicted Republicans are "going to sweep our statewide races in Virginia," adding, "We're going to make a statement that's going to be heard around the country."
Youngkin claimed McAuliff is "going to bring in everybody he possibly can to try to take the spotlight off of his failed record, his failed policies."
Watch part of Youngkin's comments below:
WATCH @GlennYoungkin on @FaulknerFocus:

"The sun is clearly setting on @TerryMcAuliffe's 43-year political career and we're all watching it." 🔥🔥🔥#WinWithGlenn #VAGov pic.twitter.com/24IDtXDuqn

— Christian Martinez (@C_RMartinez) October 25, 2021
Advertisement - story continues below
Former President Barack Obama (D) campaigned for McAuliff over the weekend.
"When you've got someone in your corner who has shown that they will work for you, who has a track record of accomplishments, then you have to go out there and work for them. Not because everything suddenly is going to be perfect but because it's going to be better," Obama said.
Is he using big names to take attention off of his "failed record"?
He added, "We ain't got time to be tired."
Obama also took a swipe at Youngkin without mentioning his name.
"As far as I can tell, the big message of Terry's opponent is that he's a regular guy because he wears fleece and he's accusing schools of brainwashing our kids," Obama explained.
Advertisement - story continues below
He continued, "He's also said he wanted to audit the voting machines used in the last presidential election again. Really? Encouraging the lies and conspiracy theories that we've had to live through all this time? And yet we're supposed to believe he's going to stand up for our Democracy?"
McAuliffe shared during an interview with MSNBC earlier this month First Lady Jill Biden and former Georgia Democratic gubernatorial nominee Stacey Abrams will also be campaigning for him.
Truth and Accuracy
We are committed to truth and accuracy in all of our journalism. Read our editorial standards.
Conversation