Commentary
Biden to America: 'Pray That We Figure How to Come Together Better Than We Have'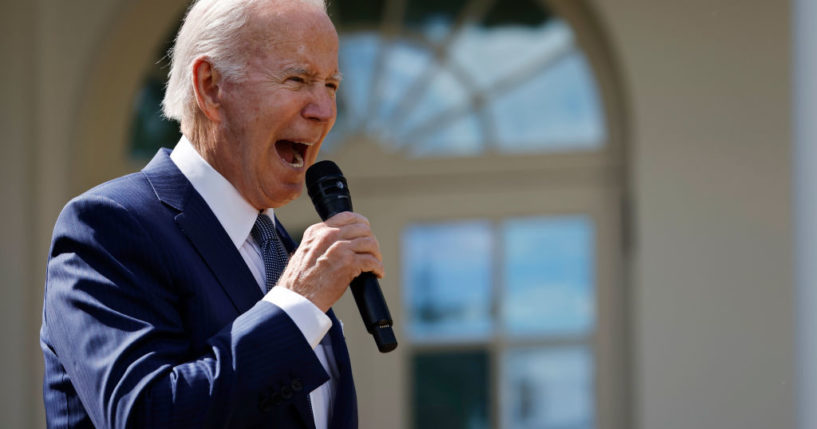 After labeling some vaguely defined group of Americans a threat to democracy, President Joe Biden is urging his countrymen to "pray" about how the country can "come together."
Yes, you read that correctly.
Biden concluded an event at the White House on Tuesday focused on Medicare by saying, "God bless you all and pray that we come together better than we have. Because a lot of peoples' lives futures depend on it."
Advertisement - story continues below
Watch the moment below:
"Pray that we figure how to come together better than we have so far," says the guy who was spent weeks calling Trump supporters a "threat to democracy" pic.twitter.com/1RuzLs83II

— RNC Research (@RNCResearch) September 27, 2022
On Jan. 20, 2021, Biden declared during his inaugural address, "We must end this uncivil war that pits red against blue, rural versus urban, conservative versus liberal. We can do this if we open our souls instead of hardening our hearts. If we show a little tolerance and humility."
"If we're willing to stand in the other person's shoes just for a moment. Because here is the thing about life: There is no accounting for what fate will deal you," he added.
Advertisement - story continues below
Those comments sounded promising from a president who campaigned on unity and bringing the country together.
But within months, his White House was telling Republican governors to "get out of the way" if they tried to block school districts from implementing mask mandates.
Meanwhile, for Americans who had not gotten vaccinated against COVID-19, Biden said in Sept. 2021, "My message to unvaccinated Americans is this: What more is there to wait for? What more do you need to see? We have made vaccinations free, safe and convenient. The vaccine is FDA approved. Over 200 million Americans have gotten at least one shot."
"We've been patient but our patience is wearing thin and your refusal has cost all of us," he added.
In January, he suggested Republicans who opposed Democrats' voting rights bill were on the same side as Jefferson Davis.
Advertisement - story continues below
And earlier this month, Biden ripped into so-called "MAGA Republicans," who he claimed represent "an extremism that threatens the very foundations of our republic." The president also insisted "MAGA Republicans" do not "respect the Constitution. They do not believe in the rule of law. They do not recognize the will of the people. They refuse to accept the results of a free election."
He also appeared to lump pro-life advocates into the "MAGA Republican" category as he said they are a "threat to our personal rights."
So much unity.
To be fair, some conservatives have not been helpful in bringing the country together by claiming Biden is illegitimate or that he is directing federal law enforcement to target his political opponents — without evidence.
Advertisement - story continues below
But calling some vaguely defined group a threat to the country, or claiming they want to "destroy" it is not unifying language either. If Biden wants to know how he can bring the country together better, he can stop labeling millions of Americans threats. That is a good and easy starting point.
Truth and Accuracy
We are committed to truth and accuracy in all of our journalism. Read our editorial standards.
Comment Down Below
Conversation