News
Biden Claims He Visited the Tree of Life Synagogue After Shooting – Synagogue Says That Didn't Happen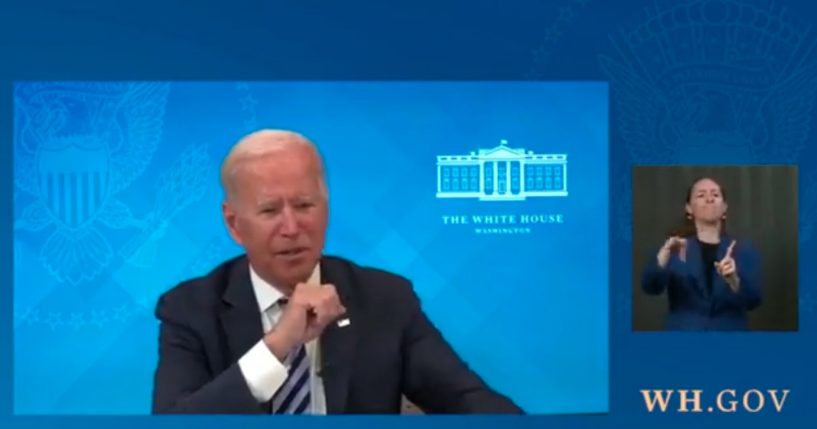 President Joe Biden says he visited the Tree of Life Synagogue after a deadly massing shooting.
However, the executive director of the synagogue says that did not happen.
During an event with Jewish leaders ahead of Jewish holidays Rosh Hashanah and Yom Kippur, the president said he visited the synagogue after the 2018 shooting.
Advertisement - story continues below
"I remember spending time at the, you know, going to the, you know, the Tree of Life Synagogue, speaking with them," Biden said.
Watch the video below:
Pres. Biden talking about visiting Tree of Life synagogue after the 2018 mass murder of 11 people. Executive director of the synagogue says Biden never visited. pic.twitter.com/1iRRCaWQZK

— Andrea Jackson FOX 35 📺🇺🇸 (@AJacksonTV) September 3, 2021
However, Barb Feige, executive director of the Tree of Life, since 2019 told The New York Post that Biden did not visit the synagogue.
Advertisement - story continues below
Feige firmly said "no" Biden did not visit, the Post writes.
Eleven people were killed when a man opened fire in the Tree of Life Synagogue in Oct. 2018. The New York Times notes the shooting was "described as among the deadliest against the Jewish community in the United States."
CNN's fact-checker, Daniel Dale, noted that the White House has not commented on the story. He added, "In other words, they have not disputed what the synagogue told the Post."
He also said the network had not found evidence that Biden visited the synagogue.
"It is possible that Biden spoke with someone from the synagogue say by phone, that quote you heard with him talking about speaking with them. He did say in 2018 that he had friends who attended services at the Tree of Life," Dale said.
Advertisement - story continues below
He added, "Regardless though, this was the president telling Jewish leaders in advance of the high holidays that he remembered spending time at the site of an anti-Semitic massacre, going to the site of the anti-Semitic massacre, and there's just no evidence this is actually true."
UPDATE [09/03/21, 1:57 p.m. EST]:
According to CNN Reporter Daniel Dale, "White House says Biden was referring to a 2019 phone call with Tree of Life's rabbi; the rabbi says in a statement that Biden conveyed condolences and support, and it meant a lot. Still, Biden's comments about 'spending time at' and 'going to' the synagogue were not true."
Truth and Accuracy
We are committed to truth and accuracy in all of our journalism. Read our editorial standards.
Comment Down Below
Conversation