News
Biden, First Lady Join Troops for 'Friendsgiving' Meal to Thank Them for Their Service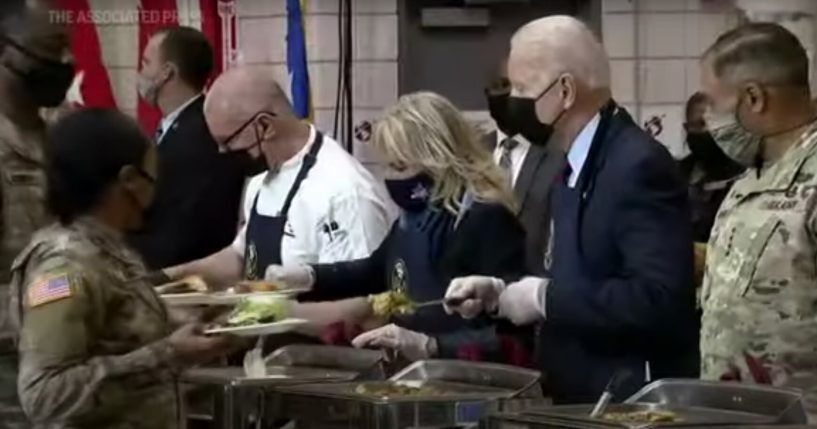 President Joe Biden and First Lady Jill Biden attended a "Friendsgiving" meal with military troops, thanking them for their service.
Biden delivered remarks at Fort Bragg, North Carolina, and proceeded to serve the troops food along with his wife.
"I want to thank not only you warriors, I want to thank your families because they stand and wait. And I know how hard it is to have someone who is not at the table on a holiday that are in harms' way that find themselves out of the country," Biden said.
Advertisement - story continues below
He added, "The thing that's amazing to me is how proud I am to be your commander-in-chief. You're the most incredible group of women and men, warriors, that we've ever seen. We came because we wanted to thank you, tell you how much we care. And we wanted you to hear the engine of Air Force One so you couldn't hear anything…All kidding aside, thank you, thank you, thank you, for all that you do."
The first lady also acknowledged how difficult it is for families who are missing a loved one at the table.
"I know what it feels like for all of your families here because you won't be home for the holidays. And I know what it's like to see that empty seat at the table and just feel like just how hard it is for the families. So, I want to thank all of you. That's why we came to have dinner with you," Jill Biden said.
Watch the video below:
Advertisement - story continues below
The president kicked off the Thanksgiving celebrations with the annual turkey pardon last week, as IJR reported.
The names of the two turkeys are "Peanut Butter" and "Jelly." Biden said they were "selected on their temperament, appearance, and I suspect vaccination status."
He added, "Yes, instead of getting basted these two turkeys are getting boosted."
Biden explained it is "important to continue traditions like this, to remind us how from darkness there's light and hope and progress and that's what this year's Thanksgiving in my view represents."
Truth and Accuracy
We are committed to truth and accuracy in all of our journalism. Read our editorial standards.
Conversation