News
Biden Participates in Annual Turkey Pardon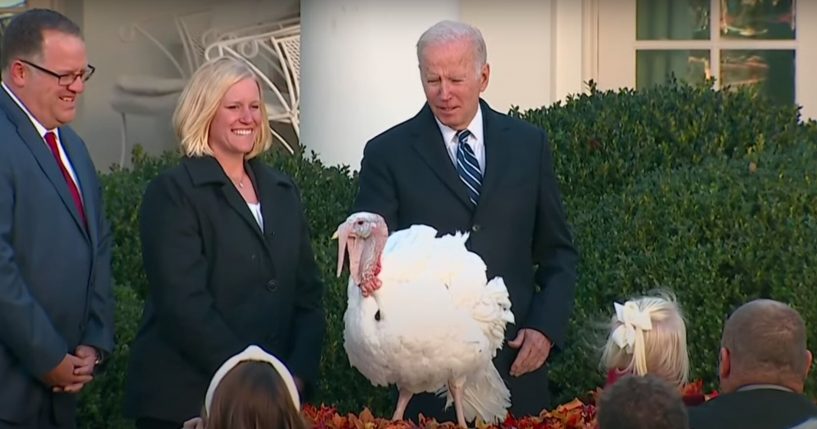 President Joe Biden continued the annual tradition of pardoning the national Thanksgiving turkey.
The two turkeys "Peanut Butter" and "Jelly" were raised in Jasper, Indiana.
Biden used the light-hearted moment on Friday to plug booster shots for the COVID-19 vaccines.
Advertisement - story continues below
"Eventually, Peanut Better and Jelly were selected on their temperament, appearance, and I suspect vaccination status," Biden said.
He added, "Yes, instead of getting basted these two turkeys are getting boosted."
Finally, Biden said, "It's important to continue traditions like this, to remind us how from darkness there's light and hope and progress and that's what this year's Thanksgiving in my view represents."
The president went on to note that many Americans will likely gather together for traditional Thanksgiving dinners and see family members they have not seen for a "long time" due to the pandemic.
Advertisement - story continues below
Biden recognized the front-line workers who worked during the pandemic, the scientists who worked to develop the COVID-19 vaccines, and Americans who lost loved ones.
He concluded, "From the Biden familyto yours, we wish you a happy Thanksgiving. And may God bless you all and may God protect our troops."
Watch the moment below:
As Politico notes, "The presidential turkey pardon has a storied history. The first president to be presented with a turkey was Harry Truman in 1947, though the official White House turkey pardoning was started by President George H.W. Bush in 1989. The turkeys are always named in pairs — including 2014's Mac and Cheese, 2016's Tater and Tot and 2017's Drumstick and Wishbone."
Advertisement - story continues below
"Following Friday's ceremony, Peanut Butter and Jelly will return to their home state of Indiana to live out the rest of their days at Purdue University in West Lafayette," it added.
Truth and Accuracy
We are committed to truth and accuracy in all of our journalism. Read our editorial standards.
Comment Down Below
Conversation