News
Biden Claims Gas Price Increases Are Not the Result of 'Anything We Did'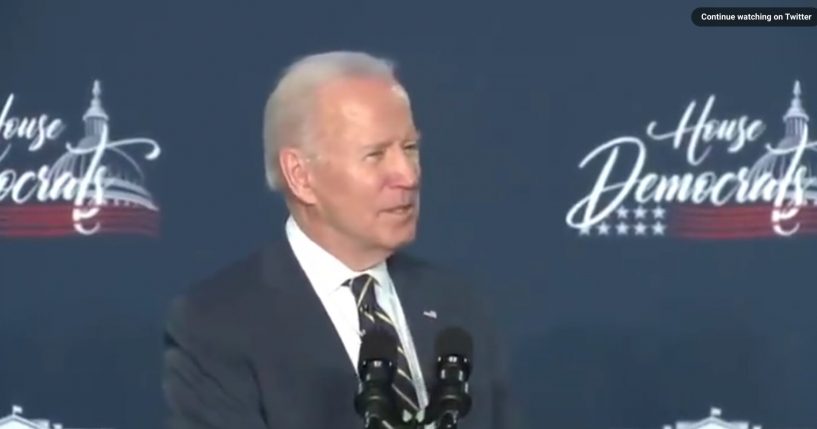 President Joe Biden is insisting higher gas prices are not his fault and is placing blame on Russian President Vladimir Putin for his invasion of Ukraine.
Speaking to a gathering of House Democrats on Friday, Biden said, "Make no mistake, inflation is largely the fault of Putin. I love the Republicans saying it's Biden saying he's going to stop the Keystone pipeline — and I did — and that's the reason prices went up. Folks, let's get something straight there. The Keystone pipeline was two years away and had been 2% finished. Give me a break."
He went on to read a series of headlines that said Republicans were wrong for blaming him for high gas prices.
Advertisement - story continues below
"Don't let anybody tell you anything you did supporting the idea that we block Russian oil coming into the country — and I said at the time prices are going to go up for gasoline — it wasn't anything we did," he added.
Watch the video below:
Biden: Dana Milbank agrees that it's Putin's fault American gas prices are skyrocketing pic.twitter.com/exGeaZkQrd

— Tom Elliott (@tomselliott) March 11, 2022
His comments come as the average national price for a gallon of gas sits at $4.33 per gallon, up nearly 90 cents from a month ago, according to AAA.
Advertisement - story continues below
Last year gas prices rose to seven-year highs as demand roared back. However, prices soared over the last two weeks following Russia's invasion of Ukraine.
Earlier this week, Biden announced the U.S. would ban Russian energy imports to punish Putin for his aggression. That came one day after the national average price for a gallon of gas hit a record high, as IJR reported.
In a press release on Monday, Patrick De Haan, the head of petroleum analysis at GasBuddy, said, "Americans have never seen gasoline prices this high, nor have we seen the pace of increases so fast and furious. That combination makes this situation all the more remarkable and intense, with crippling sanctions on Russia curbing their flow of oil, leading to the massive spike in the price of all fuels: gasoline, diesel, jet fuel, and more."
Republicans argue Biden's energy policies are responsible for the price hikes. Sen. Ted Cruz (R-Texas) said the Biden administration "created the energy crisis that we're facing with their war on energy."
"They could solve it themselves, and I have recently introduced legislation that would restore American energy independence," he told Fox News. "Instead of taking those options, they want to purchase oil from places like Iran and Venezuela."
Advertisement - story continues below
Cruz added, "They would rather fund terrorism and the worst regimes on the planet."
His comments refer to reports that administration officials were looking to countries such as Venezuela and Iran to make up for banned Russian oil.
Truth and Accuracy
We are committed to truth and accuracy in all of our journalism. Read our editorial standards.
Comment Down Below
Conversation