News
Biden Reacts to House Vote to Hold Meadows in Contempt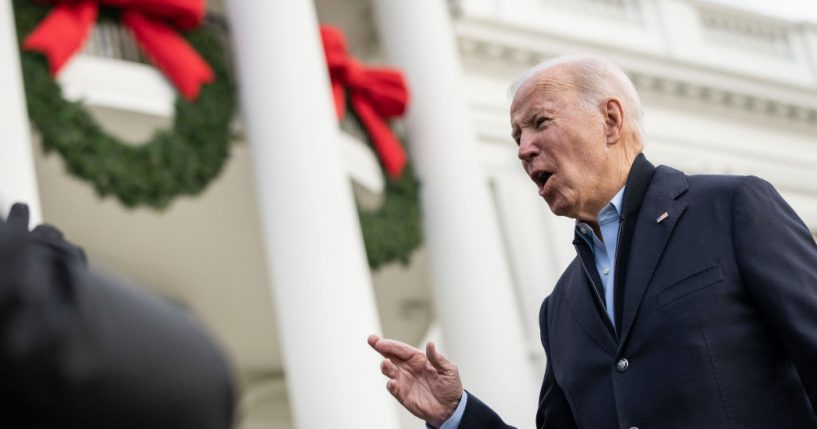 President Joe Biden says former White House Chief of Staff Mark Meadows is "worthy" of being held in criminal contempt of Congress.
While speaking to reporters before leaving for a trip to Kentucky on Wednesday, Biden was asked about the House vote to hold Meadows in criminal contempt.
"I don't know enough, but just what I've seen, he is worthy of being held in contempt," Biden responded.
Advertisement - story continues below
Watch the video below:
"He is worthy of being held in contempt."

Pres. Biden reacts after House votes to hold former Trump chief of staff Mark Meadows in contempt of Congress over Jan. 6 investigation dispute. https://t.co/C9rCF2ZbQ1 pic.twitter.com/dIHZTJA46N

— ABC News Politics (@ABCPolitics) December 15, 2021
The House voted 222-208 on Tuesday to hold Meadows in criminal contempt on Congress after he defied a subpoena issued by the select committee investigating the Jan. 6 riot at the U.S. Capitol.
Only two Republicans, Reps. Adam Kinzinger (R-Ill.) and Liz Cheney (R-Wyo.), voted to hold the former chief of staff in contempt.
Advertisement - story continues below
As The Washington Post notes, "The matter now goes to the Justice Department, which will decide whether to pursue the contempt referral. Contempt of Congress is a misdemeanor criminal offense that can result in up to one year in prison and a fine of up to $100,000."
On Monday, the committee voted to hold Meadows in criminal contempt.
Do you think Meadows is "worthy" of the contempt vote?
Ahead of the vote, Rep. Bennie Thompson (D-Miss.) said, "History will not look upon you as a victim. History will not dwell on your long list of privilege claims or your legal sleight of hand."
"History will record that in a critical moment in our democracy, most people were on the side of finding the truth, of providing accountability, of strengthening our system for future generations. And history will also record, in this critical moment, that some people were not," he added.
Last week, Meadows' lawyer told the committee his client would no longer cooperate with the panel.
Advertisement - story continues below
In his letter, Meadows' attorney pointed to "wide ranging subpoenas for information from a third party communications provider," which he argued would "include intensely personal communications of no moment to any legitimate matters of interest" as a reason for ending cooperation with the panel.
Additionally, he noted Thompson's claim that if another Jan. 6 witness asserted his 5th Amendment rights before the committee, it would be "tantamount to an admission of guilt."
Meadows had already turned over documents and text messages to the committee.
Truth and Accuracy
We are committed to truth and accuracy in all of our journalism. Read our editorial standards.
Comment Down Below
Conversation