News
Mark Meadows Says He Will No Longer Cooperate With Jan. 6 Committee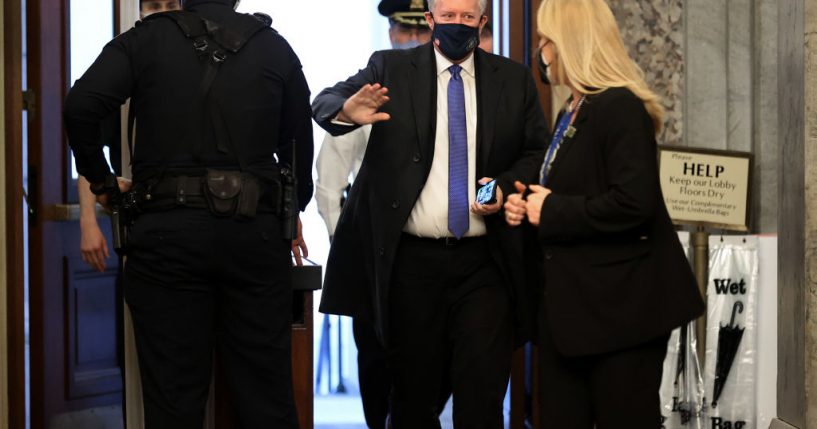 Former White House Chief of Staff Mark Meadows is reversing course and says he will no longer cooperate with the House select committee investigating the Jan. 6 insurrection at the U.S. Capitol.
In a letter obtained by CNN,  George J. Terwilliger III, Meadows' attorney, told the committee, "We agreed to provide thousands of pages of responsive documents, and Mr. Meadows was willing to appear voluntarily, not under compulsion of the Select Committee's subpoena to him, for a deposition to answer questions about non-privileged matters."
"In short, we now have every indication from the information supplied to us last Friday – upon which Mr. Meadows could expect to be questioned – that the Select Committee has no intention of respecting boundaries concerning Executive Privilege," he continued.
Advertisement - story continues below
However, Terwilliger told the committee that Meadows might consider answering written questions "so that there might be both an orderly process and a clear record of questions and related assertions of privilege where appropriate." 
In November, Meadows failed to appear before the committee for a deposition.
However, he later agreed to cooperate with the committee, and Rep. Bennie Thompson (D-Miss.), the chairman of the panel, said he had turned over documents to the committee.
In his letter, Meadows' attorney pointed to "wide ranging subpoenas for information from a third party communications provider," which he argued would "include intensely personal communications of no moment to any legitimate matters of interest" as a reason for ending cooperation with the panel.
Advertisement - story continues below
Additionally, he noted Thompson's claim that if another Jan. 6 witness asserted his 5th Amendment rights before the committee, it would be "tantamount to an admission of guilt."
"As a result of careful and deliberate consideration of these factors, we now must decline the opportunity to appear voluntarily for a deposition," Terwilliger wrote. "[Meadows'] appreciation for our constitutional system and for the Separation of Powers dictates that he cannot voluntarily appear under these circumstances."
Truth and Accuracy
We are committed to truth and accuracy in all of our journalism. Read our editorial standards.
Comment Down Below
Conversation