News
Biden Seeks To Clarify His Claim Facebook Is 'Killing People'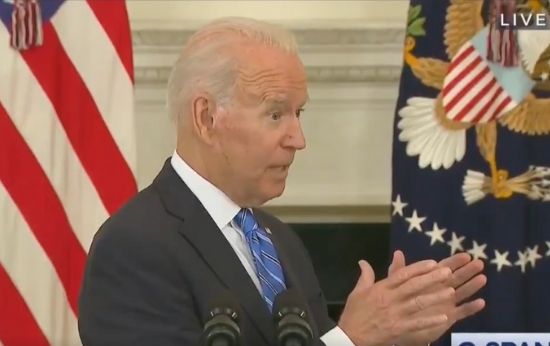 President Joe Biden is seeking to clarify his claim that Facebook is "killing people" with vaccine misinformation.
"I mean precisely what I said," Biden told reporters on Monday, before adding that he was talking about accounts being responsible for spreading misinformation about COVID-19.
He said, "Facebook isn't killing people. These 12 people are out there giving misinformation. Anyone listening to it is getting hurt by it. It's killing people. It's bad information."
Advertisement - story continues below
The president believes Facebook should not take his remark personally but rather, "that they would do something about … the outrageous misinformation about the vaccine."
Biden also said he is not "trying to hold people accountable" but "trying to make people look at themselves, look in the mirror, think about that misinformation."
Watch Biden's remarks below:
Biden clarifies that when he said Facebook is killing people, he was specifically talking about accounts responsible for spreading Covid misinformation pic.twitter.com/NH7W1Pqd65

— Aaron Rupar (@atrupar) July 19, 2021
Advertisement - story continues below
Asked on Friday what his message is to platforms like Facebook, Biden told reporters, "They're killing people. The only pandemic we have is among the unvaccinated and they're killing people," as IJR reported on.
Do you support the Biden administration's position on this?
Facebook pushed back on Biden's claim, saying in a blog post on Saturday, "The fact is that vaccine acceptance among Facebook users in the US has increased. These and other facts tell a very different story to the one promoted by the administration in recent days."
Biden's remark came after White House Press Secretary Jen Psaki said on Thursday that the Biden administration is "flagging problematic posts for Facebook."
"We've increased disinformation research and tracking within the surgeon general's office, we're flagging problematic posts for Facebook that spread disinformation," Psaki said, adding, "We are working with doctors and medical professionals to connected medical experts who are popular with their audiences with accurate information and boost trusted content."
Advertisement - story continues below
Psaki was asked on Friday by Fox News correspondent Peter Doocy, "For how long has the administration been spying on people's Facebook profiles, looking for vaccine misinformation."
"That was quite a loaded and inaccurate question," Psaki replied, later adding, "As you know, we're in regular touch with a range of media outlets… As we are in regular touch with social media platforms. This is publicly open information, people sharing information online, just as you are all reporting information on your news stations."
Sen. Amy Klobuchar (D-Minn.) said over the weekend that "social media has greatly contributed to this misinformation. There's no doubt."
"I really appreciate President Biden calling this out," Klobuchar said during a CNN interview on Sunday.
Advertisement - story continues below
Sen. Marsha Blackburn (R-Tenn.) wrote a letter to Biden on Friday, which Fox News obtained. She wrote of the administration's work with Big Tech companies to crack down on misinformation, "The blatant actions by your administration to work with Big Tech companies to censor Americans' free speech are shocking — and arguably a violation of the First Amendment."
Truth and Accuracy
We are committed to truth and accuracy in all of our journalism. Read our editorial standards.
Comment Down Below
Conversation