News
'Can't Do Much Right Now': Biden Asked What He Can Do to Address Soaring Gas Prices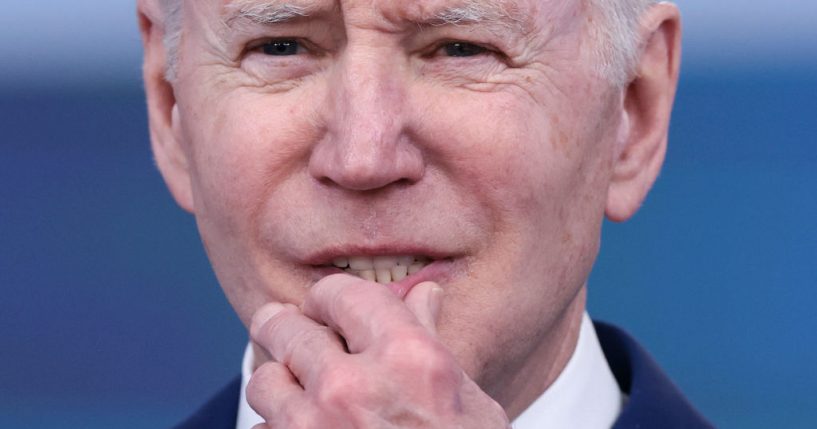 President Joe Biden is warning that gas prices will increase and that in the short term, there is not much that can be done to alleviate pain at the pump.
During a trip to Texas on Tuesday, Biden was asked about gas prices. He responded, "They're gonna go up."
When asked what he could do to alleviate price increase, the president said, "Can't do much right now. Russia's responsible."
Advertisement - story continues below
His comments come amid soaring gas prices following Russia's invasion of Ukraine.
Biden announced the U.S. would ban Russian energy imports one day after the national average price for a gallon of gas hit a record high, as IJR reported.
In a press release on Monday, Patrick De Haan, the head of petroleum analysis at GasBuddy, said, "Americans have never seen gasoline prices this high, nor have we seen the pace of increases so fast and furious. That combination makes this situation all the more remarkable and intense, with crippling sanctions on Russia curbing their flow of oil, leading to the massive spike in the price of all fuels: gasoline, diesel, jet fuel, and more."
"It's a dire situation and won't improve any time soon. The high prices are likely to stick around for not days or weeks, like they did in 2008, but months," he added.
Advertisement - story continues below
Additionally, GasBuddy reports, "The national average is seeing its largest ever 7 day spike: 49.1 cents per gallon, eclipsing the 49.0 cent weekly rise after Hurricane Katrina in 2005. Many gas price records have been broken due to Russia's war on Ukraine, which has pushed Western countries to impose severe sanctions on Russia, curbing Russian exports of crude oil to the global market."
During remarks at the White House on Tuesday, Biden predicted that prices would increase but said he will "do everything I can to minimize Putin's price hike here at home."
Conservatives are calling for the U.S. to ramp up domestic oil production to increase supply and help bring prices down. But, according to CNN, it could take at least six months for new oil drilling to make an impact.
Truth and Accuracy
We are committed to truth and accuracy in all of our journalism. Read our editorial standards.
Comment Down Below
Conversation