News
Biden Says 'There Will Be Consequences' for Border Agents Who Charged Haitian Migrants on Horseback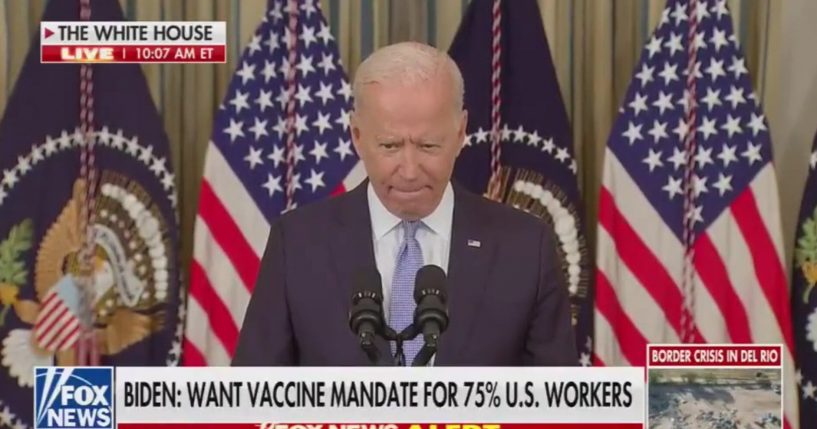 President Joe Biden says the border agents who charged at Haitian migrants on horseback "will pay."
After delivering remarks on Friday, a reporter explained, "Mr. President, you said on the campaign trail that you're going to restore the moral standing of the U.S., that you were going to immediately end Trump's assault on the dignity of immigrant communities."
She added, "Given what we saw at the border this week, have you failed in that promise? And this is happening under your watch, do you take responsibility for the chaos that's unfolding?"
Advertisement - story continues below
Biden responded, "Of course I take responsibility as president, but it was horrible, what you see, as you saw, to see people treated like they did, horses nearly running them over, people being strapped. It's outrageous."
He continued, "I promise you, those people will pay! They will be, an investigation underway now, and there will be consequences. There will be consequences."
Calling it an "embarrassment," Biden argued, "It's dangerous. It's wrong. It sends the wrong message around the world. It sends the wrong message at home. It's simply not who we are."
Watch Biden's remarks below:
Advertisement - story continues below
Biden on the lie that border patrol were using whips on illegal immigrants at the border:

"To see people treated like they did? Horses running them over? People being strapped? It's outrageous. I promise you, those people will pay." pic.twitter.com/Jx79KoYTy9

— Townhall.com (@townhallcom) September 24, 2021
During a Thursday press briefing, White House Press Secretary Jen Psaki was pressed on why Biden has not responded to the images, as IJR reported.
Should there be consequences for the Border Patrol agents?
PBS' Yamiche Alcindor asked Psaki, "Why isn't the president telling people himself these images that people say look like slavery are wrong? 'I as president condemn them.' How is he not doing that? Why is he not doing that? And what are we supposed to take away from the fact that he is not at the bully pulpit himself talking about these images?"
She explained the Biden administration's response should show the president does not believe the treatment of Haitian migrants by Border Patrol agents is okay.
Other lawmakers have spoken out against the treatment of the migrants and even argued it is worse than slavery, including Rep. Maxine Waters (D-Calif.), as IJR reported.
Advertisement - story continues below
"What we witnessed takes us back hundreds of years. What we witnessed was worse than what we witnessed in slavery. Cowboys, with their reins, again, whipping Black people, Haitians, into the water where they're scrambling and falling down when all they're trying to do is escape from violence in their country," Waters said during a press conference on Wednesday.
To protest the deportation of thousands of Haitian migrants, the U.S. Special Envoy to Haiti Daniel Foote resigned. According to CNN, the Department of Homeland Security has been increasing deportation flights back to Haiti.
In response to the footage, the Department of Homeland Security announced the agency is launching an investigation into the matter.
Homeland Security Secretary Alejandro Mayorkas "has directed that personnel from the Office of Professional Responsibility be on site full-time to ensure that the responsibilities of DHS personnel are executed consistent with applicable policies and training and the Department's values."
Advertisement - story continues below
Additionally, Psaki announced on Thursday Border Patrol agents will no longer be allowed to use horses in the Del Rio, Texas, area.
"That is a policy change that has been made in response," Psaki said.
USA Today reported Mayorkas has vowed to conduct an expedited investigation into the agents, saying the inquiry will be finished "in days."
He also said several agents have been assigned to administrative duty following the footage.
Truth and Accuracy
We are committed to truth and accuracy in all of our journalism. Read our editorial standards.
Comment Down Below
Conversation