News
'Takes Us Back Hundreds of Years': Maxine Waters Reacts to Footage of Haitian Migrants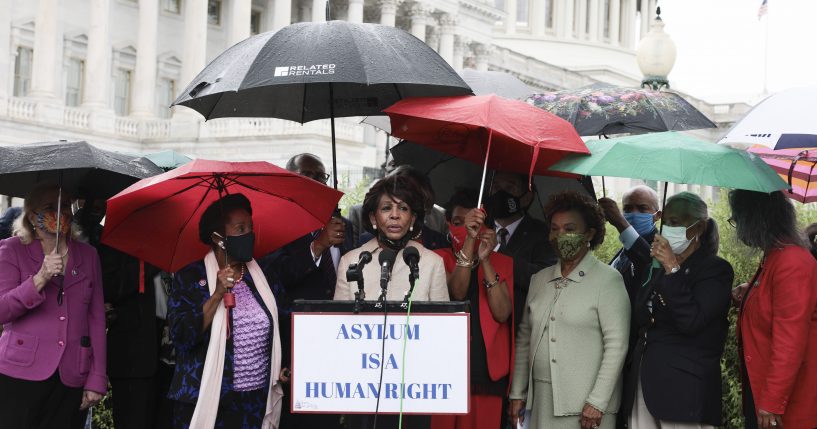 Rep. Maxine Waters (D-Calif.) says the treatment of Haitian migrants at the southern border "takes us back hundreds of years."
During a Wednesday press conference, Waters reacted to footage of Haitian migrants being chased down by Customs and Border Patrol agents.
She asked, "What the hell are we doing here?"
Advertisement - story continues below
Waters continued, "What we witnessed takes us back hundreds of years. What we witnessed was worse than what we witnessed in slavery. Cowboys, with their reins, again, whipping Black people, Haitians, into the water where they're scrambling and falling down when all they're trying to do is escape from violence in their country."
Watch part of her press conference below:
Congressman Maxine Waters just said that border patrol agents trying to restrict illegal immigrants from illegally entering our country was worse than slavery. pic.twitter.com/OQ9CZUMRhp

— Clay Travis (@ClayTravis) September 22, 2021
In response to the footage, the Department of Homeland Security announced it is opening an investigation into the issue, as IJR reported.
Advertisement - story continues below
"DHS does not tolerate the abuse of migrants in our custody and we take these allegations very seriously," the department said in a statement.
They added, "[Customs and Border Protection's] Office of Professional Responsibility is investigating the matter and has alerted the DHS Office of Inspector General."
Does it take us back "hundreds of years"?
Other lawmakers have spoken out against the treatment of the migrants, including Senate Majority Leader Chuck Schumer (D-N.Y.), as IJR reported.
During a Senate floor speech Tuesday, Schumer said, "Right now, I'm told there are four flights scheduled to deport these asylum-seekers back to a country that cannot receive them. Such a decision defies common sense. It also defies common decency, and what America is all about."
He added, "I urge President Biden and [Homeland Security] Secretary Mayorkas to immediately put a stop to these expulsions and to end this Title 42 policy at our southern border. We cannot continue these hateful and xenophobic Trump policies that disregard our refugee laws. We must allow asylum seekers to present their claims at our ports of entry and be afforded due process."
Advertisement - story continues below
ABC News reported on Thursday the special envoy to Haiti resigned over expulsions of Haitian migrants.
"I will not be associated with the United States inhumane, counterproductive decision to deport thousands of Haitian refugees and illegal immigrants to Haiti, a country where American officials are confined to secure compounds because of the danger posed by armed gangs to daily life," Daniel Foote said in a statement.
He added, "Our policy approach to Haiti remains deeply flawed, and my policy recommendations have been ignored and dismissed, when not edited to project a narrative different from my own."
According to CNN, more than 10,000 Haitians have sought to enter into the United States in recent days.
Advertisement - story continues below
Mayorkas cited "security concerns, social unrest, an increase in human rights abuses, crippling poverty, and lack of basic resources, which are exacerbated by the Covid-19 pandemic" as reasons for the flood of migrants at the southern border, as CNN reports.
NPR noted the reasoning behind which migrants can remain and those who get expelled has not been made publicly clear.
Truth and Accuracy
We are committed to truth and accuracy in all of our journalism. Read our editorial standards.
Comment Down Below
Conversation