Commentary
Watch Biden's Bizarre Reaction When Confronted With Charge His Release from Oil Reserve Is Political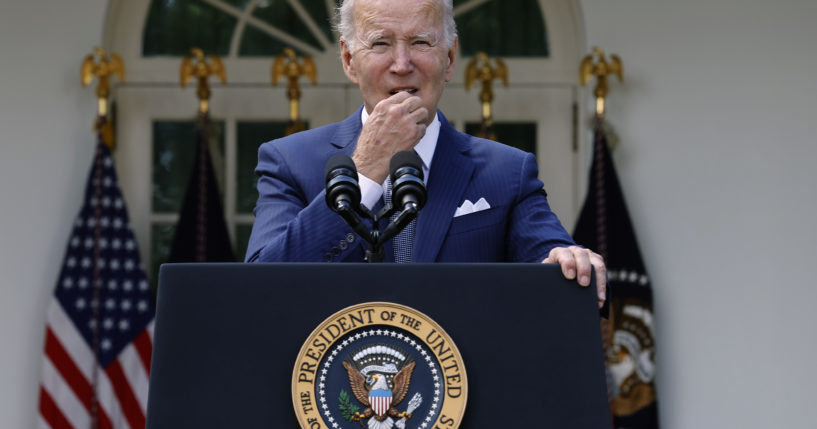 With OPEC+ nations not playing ball and cutting oil production, President Joe Biden is announcing another release of 15 million barrels of oil from the Strategic Petroleum Reserve.
The timing of the release comes weeks ahead of the 2022 midterm elections, which has led to allegations that it is politically motivated to boost Democrats.
Biden was asked on Wednesday, "What is your response to Republicans who say you are only doing this SPR release to help Democrats in the midterm?"
Advertisement - story continues below
"Where have they been the past four months?" Biden asked before adding, "That's my response.
When asked if the release is politically motivated, he said, "No, it's not. Look, it makes sense. I've been doing this for how long now? It's not politically motivated at all. It's motivated to make sure that I continue to push on what I've been pushing on."
"And that is making sure there's enough oil that's being pumped by the companies so that we have the ability to be able to produce enough oil that we need here at home," he added.
Watch the video below:
Advertisement - story continues below
Reporter: "Is it politically motivated" to release the Strategic Petroleum reserve before the midterms?

Biden: "Not at all. It's motivated to make sure that I continue to push what I've been pushing on." pic.twitter.com/a09lOuJmaz

— Greg Price (@greg_price11) October 19, 2022
It really is not clear what his response was supposed to be mean.
Do you think it is political?
If he was defending the release from the reserve, that started back in March, not four months ago. 
It is possible he was talking about the nearly 100-day decrease in gas prices, which started roughly four months ago.
However, that just does not make sense. Because, what is his point supposed to be?
Advertisement - story continues below
And finally, the latter part of his comment is also bizarre. How exactly is releasing oil from the reserve supposed to help companies… pump more oil?
His assertion that this latest release from the reserve is not political is laughable.
It comes after the OPEC nations decided to cut production, which will likely drive gas prices up again, and that could be horrible for Democrats in the election.
And for what it's worth, Saudi Arabia claims the Biden administration asked OPEC to delay its announcement of a production cut for a month. NBC News notes such a delay could postpone price increase until after the midterms.
Advertisement - story continues below
Of course, it is political. With price increases sticking around and concerns about a recession on the horizon, Biden needs something to, at the very least, not go the wrong way for him right now.
Truth and Accuracy
We are committed to truth and accuracy in all of our journalism. Read our editorial standards.
Comment Down Below
Conversation