News
Boebert Claims Dems Want to 'Cancel' Her Over Remarks About Omar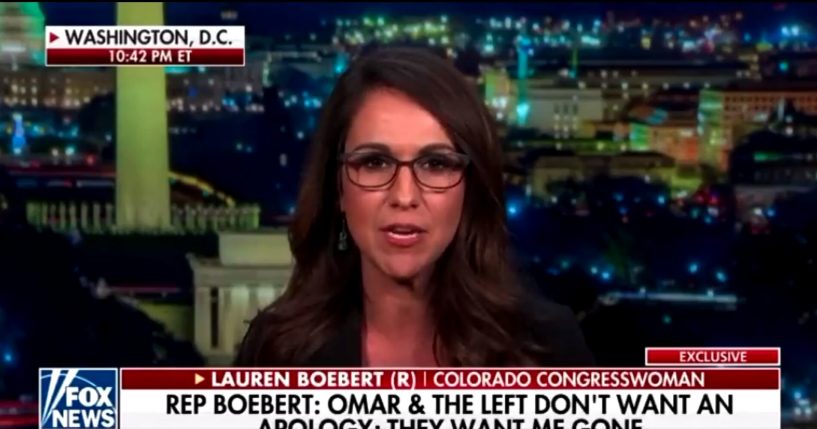 Rep. Lauren Boebert (R-Colo.) says that Democrats want to "cancel" her for remarks she made suggesting that Rep. Ilhan Omar (D-Minn.) is a terrorist.
During an appearance on Fox News on Tuesday, Boebert said, "Omar and the left don't want an apology. They want public humiliation, but that's not going to happen."
"I want to say this to you and the millions of Americans who watch this show, I will not be canceled," she added.
Advertisement - story continues below
Later, the Colorado Congresswoman claimed she did not apologize for her comments "to appease Ilhan or the left," but, "I did that because I'm here to be a good Congresswoman for the people who sent me here to be their voice."
Boebert says she "apologized" because she's here to be a good congresswoman. pic.twitter.com/GykptRveVM

— Acyn (@Acyn) December 1, 2021
Last week, a video surfaced of Boebert sharing an allegedly made up story about an elevator ride she had in the Capitol with Omar.
"I was getting into an elevator with one of my staffers," Boebert began as she claimed she saw a Capitol police officer "running hurriedly to the elevator" with "fret all over his face."
Advertisement - story continues below
She continued, "I look to my left, and there she is — Ilhan Omar. And I said, 'Well, she doesn't have a backpack. We should be fine.' So we only had one floor to go… I looked over and I said, 'Oh look, the jihad squad decided to show up for work today.'"
She later apologized to "anyone in the Muslim community I offended with my comment," and a phone call was set up between the two Congresswomen.
However, the call apparently did not go well. On Monday, Boebert said Omar asked for a public apology during the call and hung up after she pushed the Minnesota Congresswoman to "make a public apology to the American people for her anti-American, anti-Semitic, anti-police rhetoric."
In a statement, Omar said she hung up because Boebert "refused to publicly acknowledge her hurtful and dangerous comment" and "instead doubled down on her rhetoric."
House Majority Leader Steny Hoyer (D-Md.) was asked if Democrats would censure Boebert. He said, "We're considering what action ought to be taken."
Advertisement - story continues below
However, he added that he would not "prejudge" what actions they might take.
On Tuesday, a video surfaced of Boebert telling the story at a separate event in September.
Omar reacted to the newly surfaced video as she tweeted, "The evolution of this dangerous tale is frightening. Trying to come up with the most bigoted ways to traffic Islamophobic tropes is the brand of the Republican party."
"It should be clear by now that there needs to be real consequence for this hateful anti-Muslim rhetoric. Enough!" she added.
Truth and Accuracy
We are committed to truth and accuracy in all of our journalism. Read our editorial standards.
Comment Down Below
Conversation