News
Bush Blasts Biden's Decision To Withdraw US Troops From Afghanistan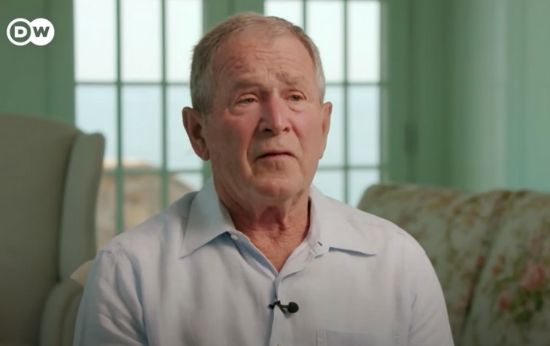 Former President George W. Bush is criticizing the decision to withdraw all American troops from Afghanistan.
After praising retiring German Chancellor Angela Merkel and her support for the NATO mission in Afghanistan, Bush said during a DW News interview, "She saw the progress that could be made for young women and girls. It's unbelievable how that society changed from the brutality of the Taliban."
He continued, "And now all of a sudden, sadly, I'm afraid Afghan women and girls are going to suffer unspeakable harm."
Advertisement - story continues below
Asked if he believes the Afghanistan withdrawal is a "mistake," the former president replied, "I think it is, yeah. I think the consequences are going to be unbelievably bad."
"Laura and I spent a lot of time with Afghan women. And they're scared," Bush said. "And think of all the interpreters and people who helped not only U.S. troops, but NATO troops. It seems like they're just going to be left behind to be slaughtered by these very brutal people. It breaks my heart."
Watch Bush's remarks below (starting around 19:45):
Advertisement - story continues below
Biden defended his withdrawal strategy, saying on July 8, "Nearly 20 years of experience has shown us, and the current security situation confirms, that just one more year of fighting in Afghanistan is not a solution but a recipe for being there indefinitely."
White House Press Secretary Jen Psaki also said, "We're not going to have a mission accomplished moment in this regard. It's a 20-year war that has not been won militarily. We are proud of the men and women who have served, incredibly grateful."
Do you support the troop withdrawal?
Officials said last week that the withdrawal was more than 90% complete.
Former President Donald Trump expressed support in April for the troop withdrawal from Afghanistan. He called it "wonderful and positive."
According to a Politico/Morning Consult poll released on Wednesday, 59% of registered voters support removing all U.S. troops from Afghanistan by the end of next month. In comparison, 25% of those polled oppose it.
Truth and Accuracy
We are committed to truth and accuracy in all of our journalism. Read our editorial standards.
Comment Down Below
Conversation