Cassidy Sends a Warning To the GOP About Continuing To Embrace Trump: 'We Will Lose'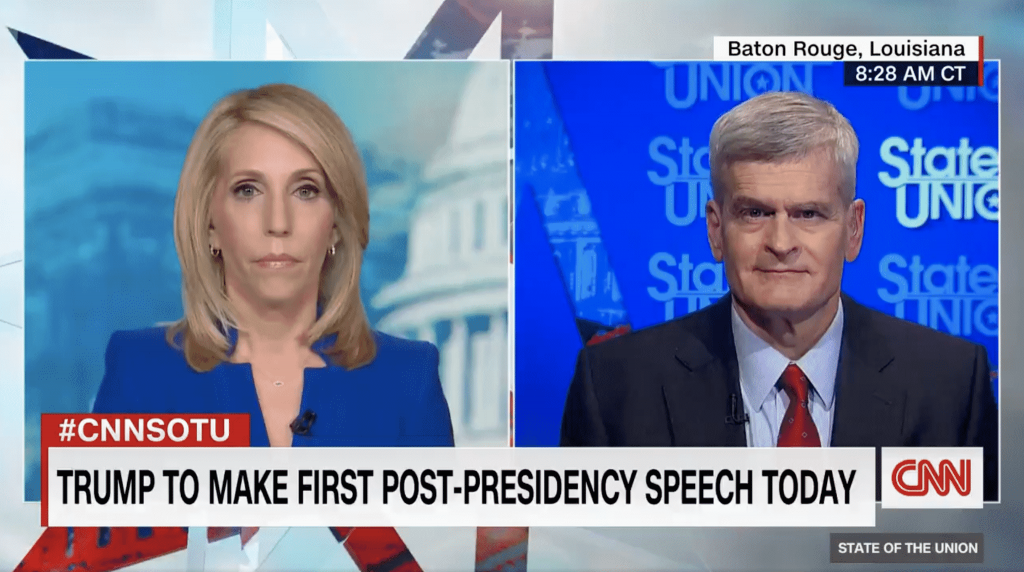 As former President Donald Trump is seeking to make a return to the political spotlight, some Republicans are warning the party against embracing him.
Sen. Bill Cassidy (R-La.) was asked during an appearance on CNN's "State of the Union" on Sunday if he believes Trump is fit to be president again.
"That's a theoretical that I don't think will come to pass," Cassidy responded. "I don't mean to duck, but the truth is you could ask me [about] a lot of people, if they are fit. Point is, I don't think he'll be our nominee."
The Louisiana senator is one of seven Republican senators who voted to convict Trump on the impeachment charge of "incitement of insurrection."
Host Dana Bash noted that Trump was scheduled to speak at the Conservative Political Action Conference (CPAC) and asked Cassidy if he believes the former president should have a role in the party going forward. 
"You have a lot in that question. Let me put it this way, we've got to win in two years, we've got to win in four years. If we do that, we'll do that by speaking to those issues that are important to the American people… not by putting one person on a pedestal and making that one person our focal point," Cassidy said.
Watch the video below:
Sen. Bill Cassidy says he doesn't think fmr. Pres. Trump will be the GOP nominee for president in 2024. "Over the last four years, we lost the House… the Senate and the presidency" which has not happened since Herbert Hoover. "If we idolize one person, we will lose" #CNNSOTU pic.twitter.com/F6mhjVyZ4p

— State of the Union (@CNNSotu) February 28, 2021
Bash noted that there was a statue of Trump that made an appearance at CPAC as she noted, it does not appear that his influence on the party is waning. She asked if the party can move forward with Trump retaining his grip on the party.
"Political organizations and campaigns are about winning. Over the last four years, we lost the House of Representatives, the Senate, and the presidency. That has not happened in a single four years under a president since Herbert Hoover," he said.
Cassidy went on to argue that Republicans "have to listen to the voters, not just those who really like President Trump, but also those who are perhaps less sure."
He went on to claim that the policies of the Republican Party were "working" before the COVID-19 pandemic and argued that if Republicans speak about those policies, they will win in 2022 and 2024.
Finally, he warned, "If we idolize one person, we will lose. And that's kind of clear from the last election."