Commentary
Cheney Wades Into AZ Elections With Massive Ad Buy Targeting Kari Lake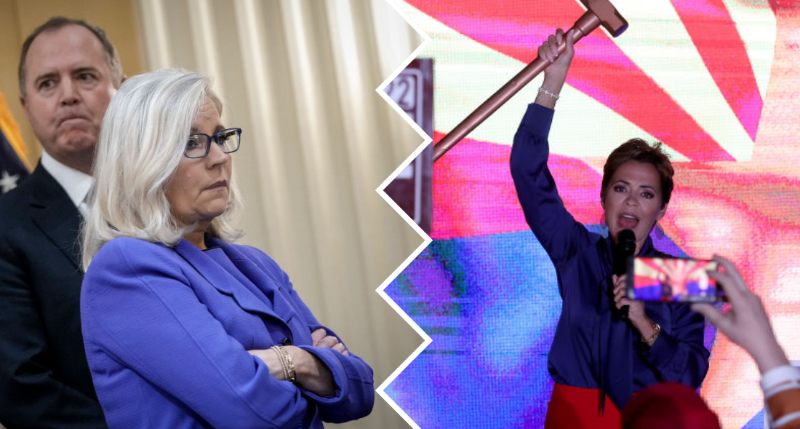 With less than two weeks left until the midterm elections, Rep. Liz Cheney (R-Wyo.) is publicly backing Democratic candidates around the country.
Earlier this week, she officially endorsed Rep. Elissa Slotkin (D-Mich.).
And on Friday, NBC News reported the Great Task PAC — which is organized by Cheney — has purchased a $500,000 ad buy targeting top Republican candidates in Arizona.
Advertisement - story continues below
A 30-second ad, which was first released to NBC, goes after Arizona Republican gubernatorial nominee Kari Lake and Mark Finchem — the Republican candidate for secretary of state.
"I don't know that I have ever voted for a Democrat, but if I lived in Arizona, I absolutely would," Cheney says in the ad.
Watch the video below:
Advertisement - story continues below
The ad then plays videos of Lake and Finchem as Cheney says, "You have a candidate for governor, Kari Lake, you have a candidate for secretary of state, Mark Finchem, both of whom have said that they will only honor the results of an election if they agree with it."
"If you care about the survival of our republic, we cannot give people power who will not honor elections. We must have elected officials who honor that responsibility," she added.
Do you think this ad will make a difference?
It is important to have candidates who are willing to accept the results of our elections. That is a bedrock of our democracy. And in an Oct. 16 interview on CNN, Lake refused to say she would accept a loss. Instead, she said, "I'm going to win the election and I'm going to accept that result."
People lose elections without nefarious interference. It happens. It should not be impossible to accept you might lose a free and fair election.
Lake has become a star in the Republican Party as polls show her opening up a lead over Democrat Katie Hobbs, despite being labeled "dangerous" or a "Donald Trump in heels." Several pundits have noted she has charisma and a polished message that appeals to voters, which has helped spark speculation she could become a potential presidential contender.
Advertisement - story continues below
And having a prominent Republican star attacking our country's election system is not good for anyone. So it is understandable that Cheney would want to prevent Lake from winning.
But, FiveThirtyEight and RealClearPolitics both show Lake leading Hobbs by three points despite everything that has already been said about her. As a result, it is not clear how much of a difference Cheney's ad will make. Who would it appeal to or persuade that everyone else could not?
Cheney and her organization risk becoming just like The Lincoln Project — an organization beloved by the left that rakes in donations but had no meaningful effect on the 2020 election.
The Wyoming Congresswoman is already viewed pretty skeptically among conservatives. And going after one of their newest stars and missing, or endorsing Democrats over candidates who are not even too Trump-like will not help win her influence in the party.
Advertisement - story continues below
After a while, conservatives will probably ignore her ads like they do The Lincoln Project's ads.
Truth and Accuracy
We are committed to truth and accuracy in all of our journalism. Read our editorial standards.
Comment Down Below
Conversation