Commentary
Cheney Endorses Dem in District Viewed as One of the GOP's 'Chief Targets' to Flip in November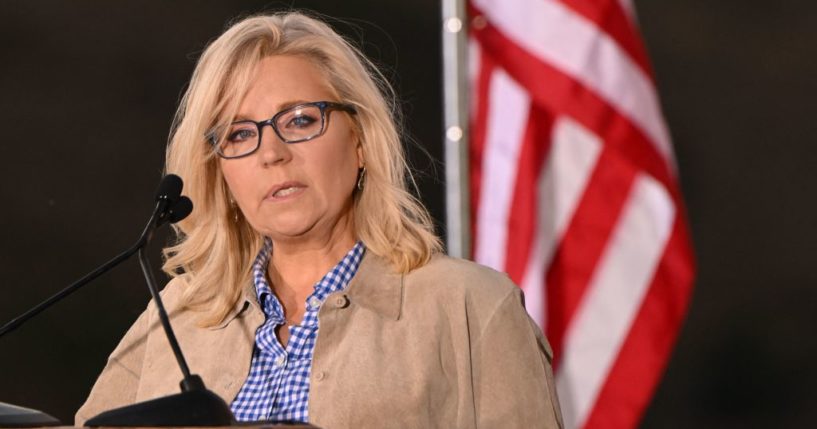 Rep. Liz Cheney (R-Wyo.) is offering her first official endorsement of a Democrat in the 2022 election cycle.
In a statement released to the Detroit Free Press, Cheney revealed she is endorsing Rep. Elissa Slotkin (D-Mich.)
"I have come to know Elissa as a good and honorable public servant who works hard for the people she represents, wants what's best for the country, and is in this for the right reasons," she said.
Advertisement - story continues below
The statement added, "While Elissa and I have our policy disagreements, at a time when our nation is facing threats at home and abroad, we need serious, responsible, substantive members like Elissa in Congress."
Slotkin thanked the Wyoming Congresswoman for her support as she said, "I'm grateful for her support in this race and I'm proud of the work we've done together to strengthen our national security and America's role in the world."
"Rep. Cheney has shown tremendous leadership over the last two years, and while we certainly don't agree on every issue, I look forward to welcoming her to Michigan's 7th district next week to discuss the points where all Americans can leave politics aside and put our country above all else," Slotkin added.
Cheney is also scheduled to campaign with Slotkin next week.
Advertisement - story continues below
The Associated Press notes the Michigan Democrat's district is "considered a toss-up by both sides and one of the Republicans' chief targets in their campaign to win the House majority."
Slotkin is running against state Sen. Tom Barrett (R).
This endorsement is kind of weird, but not entirely surprising.
It is no secret that Cheney is not the biggest fan of many House Republicans at this time due to their stance on the Jan. 6 committee and former President Donald Trump.
But it is not as though she is supporting a Jan. 6 committee member. Also, in the statement revealing her endorsement, Cheney did not accuse Barrett of being a "MAGA Republican" or a threat to democracy.
Advertisement - story continues below
Nor do the AP, the Free Press, or Michigan Radio call him an election denier or promoter of claims the 2020 election was stolen. By contrast, Michigan State University political scientist Matt Grossmann told Michigan Radio that Barrett is "quite conservative" but not "equated with the Trumpiest parts of the Republican Party."
It seems like he might be the kind of Republican Cheney could either support or just stay out of the race altogether.
Still, the Free Press notes the two serve together on the House Foreign Affairs Committee. And Slotkin worked for former President George W. Bush, former President Barack Obama, and former Vice President Dick Cheney.
It is understandable if the two Congresswomen get along and are friendly. But Cheney is not going to change the party the way she wants by campaigning against Republicans who are not even that Trump-like. And if she wants to have any hope of a political future in the near term, endorsements like these will not help her with conservatives.
Advertisement - story continues below
If she's going to back Democrats — who will likely vote for liberal policies — over Republicans like Barrett, why would conservatives think she would actually advance policies they like?
Truth and Accuracy
We are committed to truth and accuracy in all of our journalism. Read our editorial standards.
Comment Down Below
Conversation