News
Cindy McCain Weighs In As Her Daughter Says Farewell To 'The View'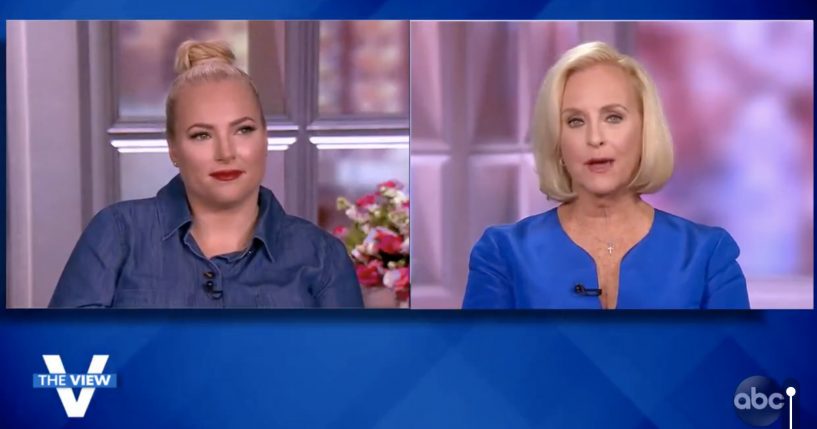 Cindy McCain is reflecting on her daughter's time on "The View," telling the co-hosts her father would be "so proud" of Meghan McCain.
During Meghan McCain's last day on "The View," her mother wished her the best moving forward.
"I am so proud of Meghan and what I look forward to, in many ways, is to be able to see more of her," Cindy McCain said.
Advertisement - story continues below
She added, "She's done a wonderful job. I love her independence. Her dad would be so proud of her, and I wish her the best in whatever endeavors she chooses to do, but I'm glad she chose a little bit of family over too much work right now. It's important."
Meghan McCain responded, "Thank you, mom."
Watch her comments below:
.@cindymccain reflects on her daughter @MeghanMcCain's time on @TheView, telling us that Sen. John McCain would be "so proud" of their daughter.

"I wish her the best in whatever endeavor she chooses to do." https://t.co/kS1p3Jmn3v pic.twitter.com/lHYi5yJE8s

— The View (@TheView) August 6, 2021
Advertisement - story continues below
Co-host Sunny Hostin noted Meghan McCain's father pushed her to take the job. She asked her mother why he was so adamant she takes the job and what she thinks he would be most proud of.
Cindy McCain replied, "Well, he was adamant because he thought it would be a good format for her… we used to call her John McCain in a dress when she was little, so we knew she can do it. We knew she had the ability to make waves or deal with controversy."
She continued, "And he also really wanted her to have the opportunity to really express herself and spread her wings a little more. It was really his suggestion and his idea that she do this when offered the job, so I know he's very proud of her right now."
Meghan McCain announced her plans to leave "The View" in July, as IJR reported. She said during an episode of the show, "This was not an easy decision. It took a lot of thought and counsel and prayer and talking to my family and my close friends."
She also praised her co-hosts, saying, "You are the most talented women on all of television hands down and it has been so incredible to be able to do this with you."
Advertisement - story continues below
During her announcement, Meghan McCain told her co-hosts "this is just the right decision for me at this moment."
Truth and Accuracy
We are committed to truth and accuracy in all of our journalism. Read our editorial standards.
Comment Down Below
Conversation