News
Dem Senator Predicts a 'Revolt' if SCOTUS Rules Assault Weapons Bans Are Unconstitutional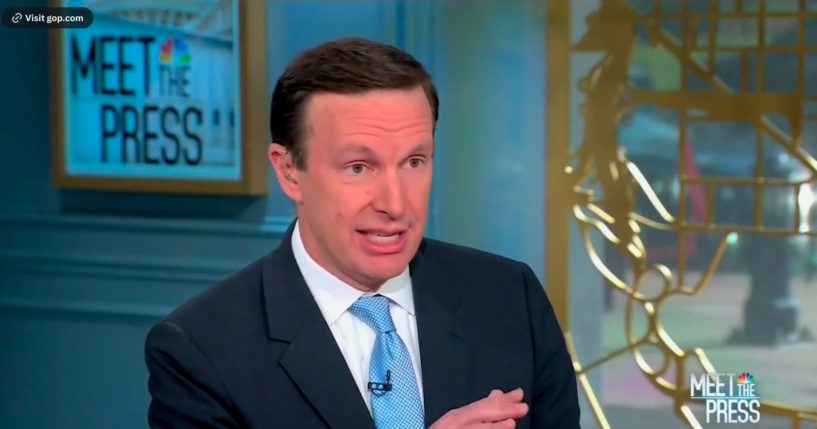 A Democratic senator is predicting a certain ruling by the Supreme Court could send it into "crisis mode."
During an appearance on NBC's "Meet The Press" Sunday, Sen. Chris Murphy (D-Conn.) discussed the possibility the nation's highest court could rule certain gun control measures unconstitutional.
"If the Supreme Court eventually says that states or the Congress can't pass universal background checks or can't take these assault weapons off the streets, I think there's going to be a popular revolt," he said.
Advertisement - story continues below
Murphy added, "A court that's already pretty illegitimate is going to be in full crisis mode."
Watch the video below:
It did not take long for criticism of Murphy's comments to roll in:
Advertisement - story continues below
Chris Murphy is an idiot. Are there so many fools in Connecticut they keep electing this idiot? https://t.co/UGwjrrRDiP

— Roy Nix (@ClubfitterNix) May 15, 2023
Chris Murphy once again referring to the Judicial Branch of the US Government as "illegitimate." He's making a habit of this. This rhetoric is dangerous, serving only to sow further division and incite violence when the Court's legal rulings don't agree with his personal opinion. https://t.co/nBtArVscHL

— Michael Grant (@MikeGrant262) May 15, 2023
Do you think there would be a revolt?
Judicial independence is the cornerstone of a free republic. The constitution provides for lifetime appointments and no reduction of judicial salaries by the elected branches to advance this principle. Calling the Supreme Court "pretty illegitimate" is concerning. 1/2 https://t.co/XSP5NfZgFW

— Darren Cunningham (@dpc007) May 15, 2023
This is this the legislative branch using intimidation against the judicial branch. Stochastic terrorism. https://t.co/fAwJmV9re9

— Tom Shattuck (@tomshattuck) May 15, 2023
In what way is the #SCOTUS "already pretty illegitimate"? This is not good for senators to be instilling doubt in the only institution that preserves law and order in this country. https://t.co/8TvTwRvqVj

— Anthony Pratt (@TheRealAPratt) May 15, 2023
Advertisement - story continues below
Murphy insisted judicial action could threaten "progress" lawmakers have made on gun control measures.
His comments come after Virginia District Court Judge Robert Payne ruled banning 18-to-20-year-olds from buying guns would implement limitations on the Second Amendment that "do not exist with other constitutional guarantees."
A Fox News poll last month found 61% of respondents said they favor a federal ban on "assault weapons."
Meanwhile, 87% said they favor criminal background checks, and 81% said they favor raising the age to buy a gun to 21.
Truth and Accuracy
We are committed to truth and accuracy in all of our journalism. Read our editorial standards.
Comment Down Below
Conversation