News
DeSantis Privately Indicated He Would Be Running in 2024: Report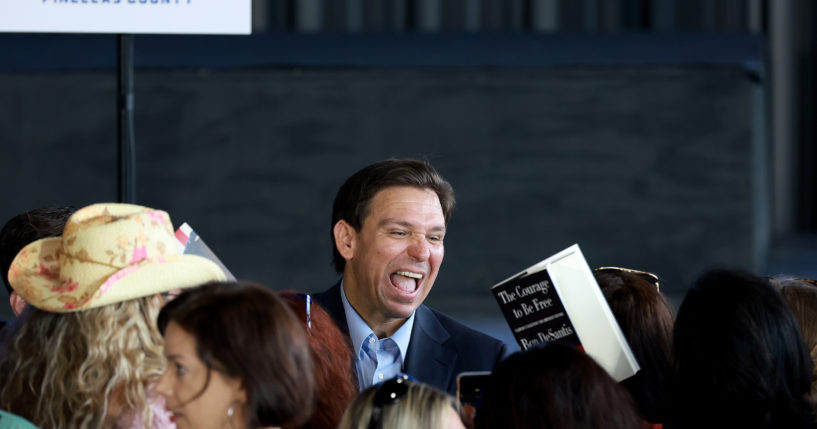 Florida Gov. Ron DeSantis (R) has privately indicated he has plans to run for the White House in 2024, according to a report.
The Washington Post cited two people familiar with DeSantis' comments.
The Post also reported that a political committee looking to bring DeSantis into the race launched on Thursday.
Advertisement - story continues below
The committee is "likely to serve as an approved outside spending vehicle for his campaign," the newspaper explained, citing three people familiar with the planning.
Additionally, The Post pointed out DeSantis allies do not expect the governor to make an announcement until May when the Florida state legislative session comes to an end.
However, recently, DeSantis has discussed his plans to run without any indication that he is still making a decision, according to the two people familiar with his remarks.
Earlier this week, DeSantis boasted his accomplishments as governor.
Advertisement - story continues below
"I can promise you this: You ain't seen nothing yet," DeSantis said during his State of the State address.
He told the crowd Florida ranks "number one in the nation for education freedom. We rank number one in the nation for parental involvement in education."
DeSantis continued, "We have prohibited COVID shot mandates in schools."
The governor would go head to head with former President Donald Trump should he enter the race.
A Des Moines Register/Mediacom Iowa poll found a total of 80% of Republicans questioned say they have a very or mostly favorable view of Trump while 75% had the same opinion of DeSantis.
Advertisement - story continues below
Republican presidential hopeful Nikki Haley comes in at 53% for very or mostly favorable.
DeSantis will appear in Iowa for the first time Friday.
Some are not thrilled with the idea of DeSantis running, including failed Arizona gubernatorial candidate Kari Lake (R), IJR reported.
"I am not only a friend of President Trump's, but as an American, as a mom, I loved him as president, and boy, do we need him back in the White House ASAP," she said during an interview with Newsmax.
Advertisement - story continues below
Lake explained, "I think Ron DeSantis has been an effective governor, there's no doubt about that. And the people of Florida just re-elected him. I'm assuming when they re-elected him, they were hoping he'd stay around for a while."
She continued, "I guess he's in his 40's. He's about 10 years younger than me. He's got a long political future ahead of him, and I think he should respect that the people just voted him in as governor and serve out that term for the people of Florida."
Lake then declared it was Trump's turn.
Truth and Accuracy
We are committed to truth and accuracy in all of our journalism. Read our editorial standards.
Comment Down Below
Conversation