News
DeSantis Receives Standing Ovation in Iowa When He Mentions Migrant Flight to Martha's Vineyard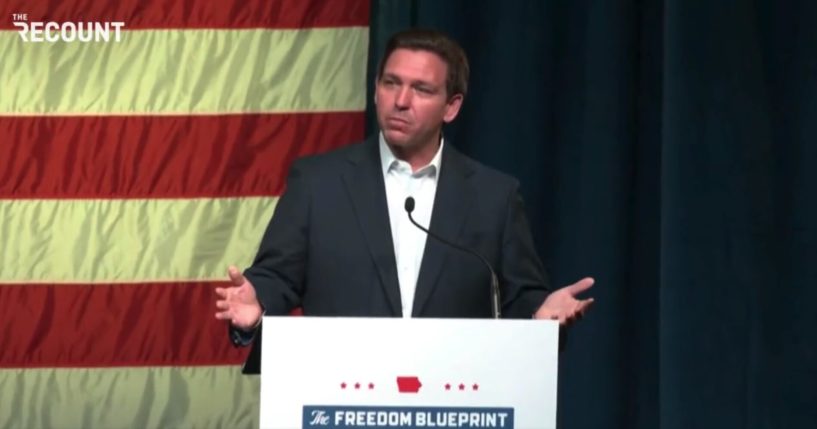 Florida Gov. Ron DeSantis (R) stirred an Iowa crowd to their feet when he mentioned his move to fly migrants to Martha's Vineyard, Massachusetts.
During an event in Davenport, Iowa, Friday, DeSantis said, "I'm sick of elites imposing their vision of open borders on you and on us without them having to face the consequences of it."
"So we thought it was worth it to send 50 illegals to Martha's Vineyard," DeSantis continued.
Advertisement - story continues below
As the crowd rose to applaud, he said, "They said they were a sanctuary city. They claimed that nobody was illegal and all are welcome. But you know what they did? They deported them the next day."
"Just think of what's going on at the border with our border towns," he added.
Watch the video below:
In Iowa, Gov. Ron DeSantis (R-FL) gets a standing ovation for touting that he sent 50 migrants from Texas to Martha's Vineyard. pic.twitter.com/Muay2nnSeC

— The Recount (@therecount) March 10, 2023
Advertisement - story continues below
In September, DeSantis joined in on the decision by the Republican governors of Texas and Arizona to transport immigrants to other parts of the country.
He sent two planes carrying migrants to Martha's Vineyard, which CBS News describes as an "upscale island enclave."
One of the notable property owners on the island is former President Barack Obama (D), who bought his roughly $12 million estate there in 2019.
Conservatives cheered the move, while some liberals made Nazi comparisons.
In a statement, a DeSantis spokesperson told Fox News Digital, "Yes, Florida can confirm the two planes with illegal immigrants that arrived in Martha's Vineyard today were part of the state's relocation program to transport illegal immigrants to sanctuary destinations."
Advertisement - story continues below
The statement added, "States like Massachusetts, New York, and California will better facilitate the care of these individuals who they have invited into our country by incentivizing illegal immigration through their designation as 'sanctuary states' and support for the Biden Administration's open border policies."
The migrants in Martha's Vineyard were given food, shelter, and legal advice.
Within two days, they were bused and ferried off of the island.
DeSantis' trip to Iowa comes amid speculation he is preparing a bid for the 2024 Republican presidential nomination.
Advertisement - story continues below
The governor has reportedly privately indicated he plans to announce a campaign after Florida's legislative session ends in May.
Truth and Accuracy
We are committed to truth and accuracy in all of our journalism. Read our editorial standards.
Comment Down Below
Conversation