News
Doocy Grills Psaki on Whether Biden Thinks Parents or School Boards Know 'Best' on Mask Mandates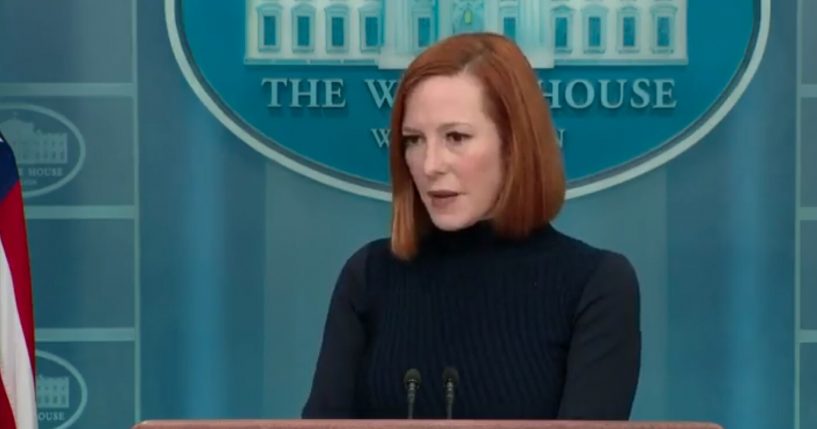 Fox News' Peter Doocy pressed White House Press Secretary Jen Psaki about who President Joe Biden believes should be in charge of making decisions about mask wearing for students.
During a press briefing on Monday, Doocy noted that several school boards are suing Virginia to reinstate a mask mandate.
He asked, "Who does the president thinks knows best for students: School board members or parents?"
Advertisement - story continues below
"The president believes that public health officials have the best guidance on what we could all do to protect ourselves," Psaki said. "It's always been up to local school districts to determine how they're going to approach what measures they're going to put into place."
She went on to note public health officials say mask wearing in schools helps reduce transmission of the virus and "we know it works."
Doocy noted, "Right in Virginia, the law is — now that there's a new governor — that students should not have to wear masks if their parents say that they don't think they need to wear masks."
"So if a parent wants to send their kid to school with no mask, should that child be allowed to go to school?" he asked.
Advertisement - story continues below
Psaki responded, "What we're advising school districts is to abide by public health guidelines and follow public health guidelines. And it's about keeping an entire community safe."
Watch the exchange below:
Jen Psaki and Peter Doocy go back and forth on whether school board officials or parents should have the authority to make decisions for the health and well-being of children in schools, particularly with respect to masks. pic.twitter.com/okGDHp4QTv

— Townhall.com (@townhallcom) January 24, 2022
Doocy then claimed that Psaki was stating that the administration believes that school board members "should have more of a say" than parents.
However, Psaki pushed back, "That's actually not what I said. I think everybody should abide by public health guidelines, not just to keep their own kids safe but keep their school community safe."
Advertisement - story continues below
On his first day in office, Virginia Gov. Glenn Youngkin (R) issued an executive order that leaves the decision on whether students have to wear masks up to their parents.
As The Washington Post notes, the order, which was set to go into effect on Monday, "contravenes federal health guidance and masking requirements maintained by the vast majority of Virginia school districts throughout the coronavirus pandemic, is in keeping with Youngkin's campaign promise to give parents greater control over all aspects of their children's education."
Truth and Accuracy
We are committed to truth and accuracy in all of our journalism. Read our editorial standards.
Comment Down Below
Conversation