News
School Boards Sue Virginia Governor Over Decision to End Mask Mandate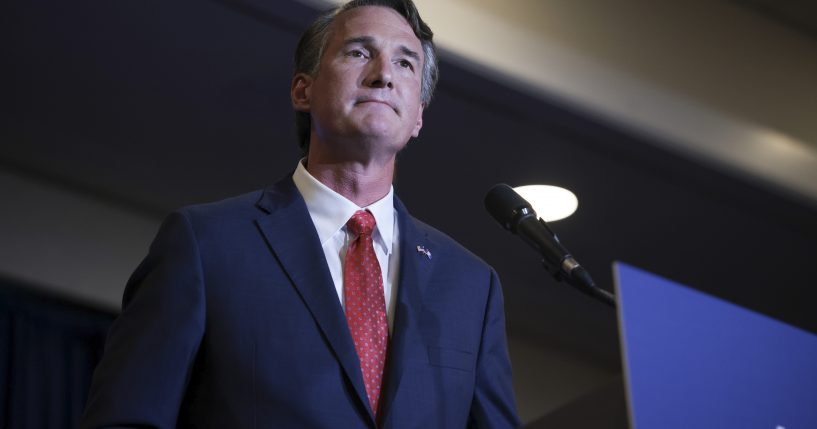 Seven school boards have filed a lawsuit against Virginia Gov. Glenn Youngkin (R).
According to The Washington Post, the school boards are suing the governor to stop him from enforcing a mask-optional order, saying it violates the Virginia Constitution.
Fairfax County Public Schools, whose system consists of 180,000 students, led the charge.
Advertisement - story continues below
The Post reported the lawsuit "asks for an immediate injunction barring enforcement of Youngkin's order, which sought to leave masking decisions to parents, contravening federal health guidance and the masking mandates that the vast majority of Virginia school districts have maintained throughout the pandemic."
The school boards said in their complaint that Youngkin's executive order violates Article 8, Section 7 of Virginia's constitution, which states that "the supervision of schools in each school division shall be vested in a school board."
They argued in a statement, "Without today's action, school boards are placed in a legally untenable position."
The statement continues, "Today's action is not politically motivated … the lawsuit is not brought out of choice but out of necessity."
Advertisement - story continues below
On Friday, Youngkin issued a statement defending his order.
"I have said all along that we are going to stand up for parents. Executive Order 2 is not about pro-masks versus anti-mask, it's about empowering parents. I am confident that the Virginia Supreme Court will rule in the favor of parents, reaffirming the parental rights clearly laid out in the Virginia code § 1-240.1," Youngkin said.
He added, "In the meantime, I urge all parents to listen to their principal, and trust the legal process."
CNN reported last week that a group of Virginia parents filed a lawsuit asking the Virginia Supreme Court to block the order.
Youngkin spokesperson Macaulay Porter told the outlet, "We will continue to protect parents' fundamental right to make decisions with regard to their child's upbringing, education and care."
Truth and Accuracy
We are committed to truth and accuracy in all of our journalism. Read our editorial standards.
Comment Down Below
Conversation