News
Flashback: Obama Dismissed Gas Tax Holiday as a 'Gimmick'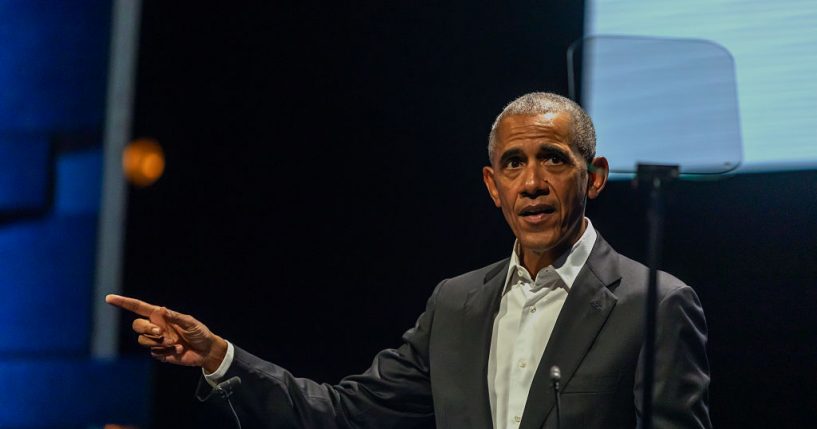 President Joe Biden's latest consideration was previously dismissed by former President Barack Obama as a "gimmick."
On Monday, Biden told reporters he is considering a federal gas tax freeze.
During a speech in North Carolina in April 2008, Obama dismissed the idea of a gas tax holiday.
Advertisement - story continues below
"John McCain started –he made the proposal. Then Hillary Clinton said, 'Me too,'" Obama said.
He added, "It would last for three months and it would save you, on average, half a tank of gas. That's what Senator Clinton and Senator McCain are proposing to deal with the gas crisis. $25 to $30. Half a tank of gas."
Obama suggested this is "the problem with Washington. We are facing a situation where oil prices could hit $200 a barrel. Oil companies like Shell and BP just reported record profits for the quarter."
He continued, "And we're arguing over a gimmick to save you half a tank of gas over the course of the entire summer so that everyone in Washington can pat themselves on the back and say that they did something."
Advertisement - story continues below
The former president argued this "isn't an idea designed to get you through the summer, it's an idea designed to get them through an election."
A now-retired journalist for ABC News, Dan Harris, reported at the time economists and experts agreed with Obama.
Do you think Obama was right?
"They say Obama is essentially right on this one. You wouldn't even get a $3 saving most likely because… it's the law of supply and demand," Harris said.
He added, "When you cut the gas tax, more people want gas. They go out and buy more gas, that drives the price up so it's likely you wouldn't even see $3."
Watch his comments below:
Advertisement - story continues below
Biden explained to reporters he hopes to "have a decision — based on the data I'm looking for — by the end [of] the week."
As of Tuesday, the nationwide average price for a gallon of gas stood at $4.96, according to AAA.
Additionally, on Monday, Biden said administration officials would be meeting with oil company CEOs this week.
Advertisement - story continues below
"We have a chance here to make a fundamental turn toward renewable energy, electric vehicles, and not just luxury vehicles, but across the board. And that's something we should be — my team is going to be sitting down with the CEOs of the major oil companies this week … starting an explanation of how they justify making $35 billion in the first quarter," Biden said.
Truth and Accuracy
We are committed to truth and accuracy in all of our journalism. Read our editorial standards.
Comment Down Below
Conversation