Commentary
Desperate Biden Considering a New Major Move On Gas Prices – Could 'Hamstring' Infrastructure Projects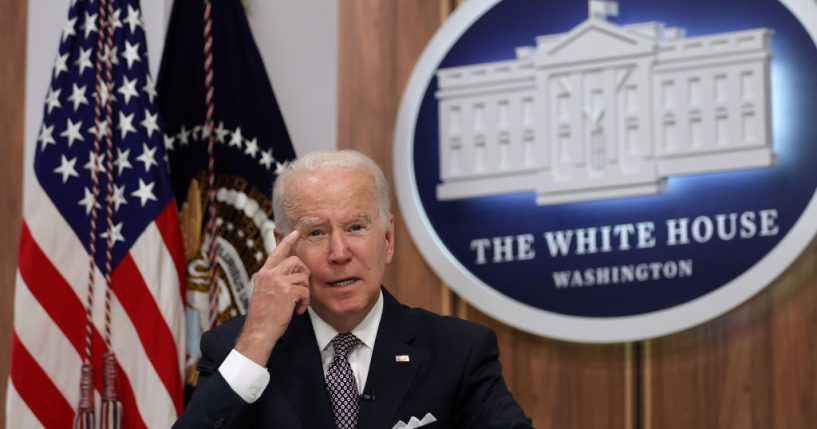 As President Joe Biden's previous efforts to blunt the pain at the gas pump have failed to deliver significant relief, he is now considering another step — although it could have unintended consequences.
On Monday, the president was asked about potentially implementing a freeze on the national gas tax.
"Yes, I'm considering it. I hope to have a decision — based on the data I'm looking for — by the end [of] the week," he told reporters.
Advertisement - story continues below
Biden on pausing federal gas tax: "Yes I'm considering it. I hope to have a decision — based on the data I'm looking for — by the end the week."

— Laura Barrón-López (@lbarronlopez) June 20, 2022
Gas prices rose steadily over Biden's first year. According to the U.S. Energy Information Administration (EIA), the average price for a gallon of all formulations was $2.42 in Jan. 2021.
By Jan. 2022, the average was up to $3.41.
But after Russia launched its invasion of Ukraine, the price increases accelerated.
Advertisement - story continues below
According to AAA, the average for a gallon of regular gas as of Monday was $4.98.
(As Americans pay more at the pump than ever before, Independent Journal Review will continue to keep the Biden administration accountable. We'll keep bringing readers the truth — and you can help us by subscribing.)
Do you think there should be a gas tax freeze?
In March, Biden announced a plan to tap the Strategic Petroleum Reserve as one of his steps designed to bring down gas prices. Meanwhile, White House Press Secretary Karine Jean-Pierre urged oil companies to "be patriots here" and ramp up their refining capabilities to help bring prices down.
As the administration is urging oil companies to ramp up their refining capabilities, Jean-Pierre also confirmed that Biden is committed to ending the country's reliance on fossil fuels which could put those companies out of business, as IJR reported.
Clearly, the steps taken by the administration haven't worked. The Washington Post reported last week that administration officials were considering sending rebate cards to Americans to help alleviate the pain at the pump, but that plan ran into problems due to concerns that a chip shortage would make it too hard to produce enough cards.
Advertisement - story continues below
Now they're considering a gas tax holiday. According to the EIA, the federal government gas tax is 18.4 cents per gallon.
Some Democrats already kicked the tires on this idea in February and dismissed it. As Politico noted in February, "The federal gasoline tax adds 18.4 cents to the price motorists pay for every gallon of gas — adding up to less than $3 for Washington when someone fills a Toyota Camry."
While the savings are not too significant, the costs could be high for Biden's infrastructure law.
Politico pointed out, "The gas tax also generates big money for the federal trust fund that pays for highway, tunnel and bridge projects across the country — and eliminating it for even part of the year would blow an enormous hole in those budgets."
Advertisement - story continues below
"The new infrastructure investments that Congress approved last year rely on $43 billion in gas tax revenues for this year alone, and losing that money could hamstring one of the Biden administration's signature achievements so far," it added.
And that comes costs for such construction projects are rising in part due to a labor shortage.
So while nothing has worked to bring gas prices down significantly, Biden has gotten so desperate that he's considering a move that could hamper one of his main achievements since taking office.
Truth and Accuracy
We are committed to truth and accuracy in all of our journalism. Read our editorial standards.
Comment Down Below
Conversation