News
Fox News Hosts React to Liz Cheney Reading Text Messages: 'Do We Believe in Privacy in This Country?'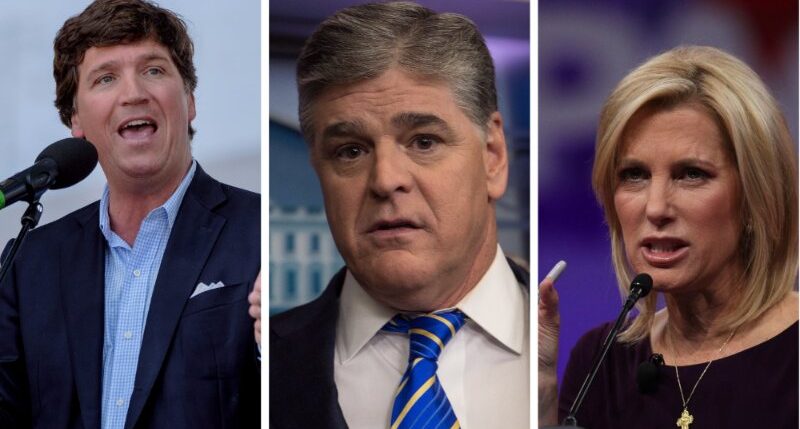 Fox News hosts reacted to Rep. Liz Cheney (R-Wyo.) reading text messages they sent to White House Chief of Staff Mark Meadows during the January 6 riot at the U.S. Capitol.
Laura Ingraham texted, "Mark, the president needs to tell people in the Capitol to go Home. This is hurting all of us. He is destroying his legacy."
Sean Hannity asked Meadows, "Can he make a statement? Ask people to leave the Capitol."
Advertisement - story continues below
Hannity voiced his frustration with the media during his show Tuesday night.
"Where is the outrage in the media over my private text messages being released again publicly? Do we believe in privacy in this country? Apparently not," Hannity said.
He added, "It's not my first rodeo, like the thousands of Hannity text messages released to the public over the years…I am an honest, straightforward person. I say the same thing in private that I say to all of you."
Taking a swipe at Cheney, Hannity argued that "she knows this. She doesn't seem to care."
Advertisement - story continues below
He continued, "She's interested in one thing and one thing only, smearing Trump and purging him from the party."
.@seanhannity is mad that @Liz_Cheney read his text to Mark Meadows on Jan. 6 and asks, "Do we believe in privacy anymore in this country? Apparently not."

He then demands to see Liz Cheney's whole family's texts about Scooter Libby. pic.twitter.com/7Io9m0oA7k

— The Republican Accountability Project (@AccountableGOP) December 15, 2021
Hannity questioned why Cheney would partner with the same people that referred to her father "as an evil, murdering war criminal and a crook on top of it."
Ingraham argued Cheney's move had "sent left-wing media hacks into spin and defame mode."
She added, "Now, of course, the regime media was somehow trying to twist this message to try to tar me as a liar, hypocrite, who privately sounded the alarm on January 6, but publicly downplayed it."
Advertisement - story continues below
Ingraham suggested the January 6 campaign "has become one of revenge and defamation of false characterizations and false equivalencies."
She claimed Cheney "will soon lose her Wyoming primary," adding, "Adam Kinzinger quit before the voters could oust him. But they'll both end up – probably – as MSNBC commentators. They'll both become Democrat lackeys like Nicolle Wallace, Bill Kristol, the whole crowd. Largely irrelevant with no real constituency, but pretty handsomely paid."
.@IngrahamAngle deflects from her text messages by…invoking @BillKristol? pic.twitter.com/vVbpLVi77r

— The Republican Accountability Project (@AccountableGOP) December 15, 2021
Tucker Carlson explained on his show the text messages "undercut" Cheney's case.
Advertisement - story continues below
He added, "So three Fox anchors sent messages to Mark Meadows, and none of them cheered what was happening at the Capitol on January 6. In fact, they were upset by it even in private when they assumed no one was listening. And that shouldn't surprise you. These are principled people. What they say in public is not that far from what they say over text message."
According to the Fox News host, "If you get a text from Brian Kilmeade, it sounds pretty much identical to Brian Kilmeade on Fox & Friends. These are not phonies. We can personally confirm that. Whether you like them or not, they are real. So Fox anchors on TV and in private opposed the BLM riots in the summer of 2020. Fox anchors opposed the riots on Capitol Hill in January of 2021. It turns out that Fox anchors opposed riots. All riots. No matter who is rioting."
WATCH: Tucker Carlson breaks down why Liz Cheney was demanding text messages, and how the texts from Fox News anchors actually undercut her point.pic.twitter.com/uHqgj4GAYy

— Election Wizard (@ElectionWiz) December 15, 2021
Kilmeade urged Meadows to get on TV at the time, adding, "Destroying everything you have accomplished."
Advertisement - story continues below
The panel voted to hold Meadows in criminal contempt for refusing to cooperate with the committee.
Truth and Accuracy
We are committed to truth and accuracy in all of our journalism. Read our editorial standards.
Comment Down Below
Conversation