News
Meadows Received Texts From Fox News Hosts During Jan. 6 Riot Calling on Trump to Respond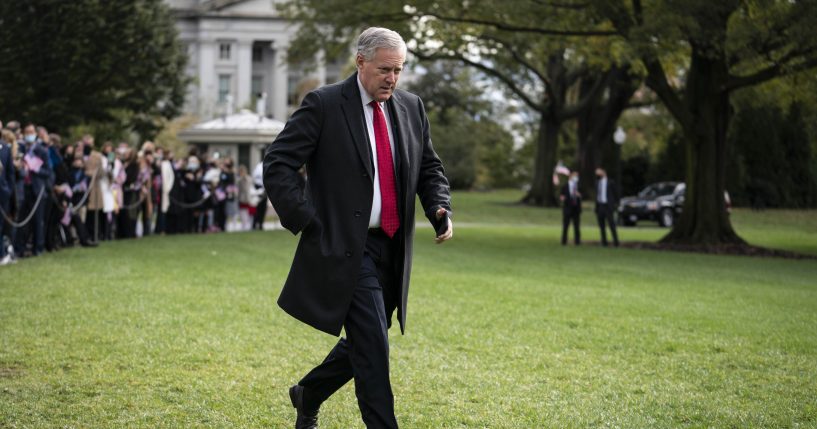 Fox News hosts sent text messages to former White House Chief of Staff Mark Meadows during the January 6 riot at the U.S. Capitol.
Rep. Liz Cheney (R-Wyo.) read the messages during a meeting of the House select committee investigating the riot.
"Multiple Fox News hosts knew the president needed to act immediately. They texted Mr. Meadows, and he has turned over those texts," Cheney said.
Advertisement - story continues below
Laura Ingraham texted, "Mark, the president needs to tell people in the Capitol to go Home. This is hurting all of us. He is destroying his legacy."
Brian Kilmeade pleaded with Meadows to "get him on TV," adding, "Destroying everything you have accomplished."
Sean Hannity asked Meadows, "Can he make a statement? Ask people to leave the Capitol."
Trump's son, Donald Trump Jr, even texted Meadows.
Advertisement - story continues below
"He's got to condemn this sh*t ASAP. The Capitol Police tweet is not enough," he said to Meadows.
Meadows then responded, "I'm pushing it hard. I agree."
WATCH: Rep. Liz Cheney reads text messages turned over by Mark Meadows, some from Fox News hosts and Donald Trump Jr., regarding Jan. 6 Capitol attack. https://t.co/RdYLvfum24 pic.twitter.com/rHgYlX0ZB3

— MSNBC (@MSNBC) December 14, 2021
After Cheney read the messages, the committee voted to hold Meadows in criminal contempt for refusing to cooperate with the committee. The committee chairman, Rep. Bennie G. Thompson (D-Miss.), criticized Meadows and others unwilling to cooperate.
"History will not look upon you as a victim. History will not dwell on your long list of privilege claims or your legal sleight of hand," Thompson said.
Advertisement - story continues below
He continued, "History will record that in a critical moment in our democracy, most people were on the side of finding the truth, of providing accountability, of strengthening our system for future generations. And history will also record, in this critical moment, that some people were not."
Last week, Meadows said he would no longer cooperate with the committee, as IJR reported.
Meadows' lawyer, George Terwilliger, urged the committee not to pursue contempt charges, as Fox News reported.
"The contemplated referral would be contrary to law because a good-faith invocation of executive privilege and testimonial immunity by a former senior executive official is not a" crime, Terwilliger said.
Advertisement - story continues below
He added, "A referral to the Department of Justice based on such an invocation would ignore the statute's legislative history and historical application, contravene well-established separation of powers principles, and improperly impute a criminal intent to a good-faith actor."
Truth and Accuracy
We are committed to truth and accuracy in all of our journalism. Read our editorial standards.
Comment Down Below
Conversation