News
Graham Says Biden Should Be Impeached Over Afghanistan: 'This Is Dereliction of Duty'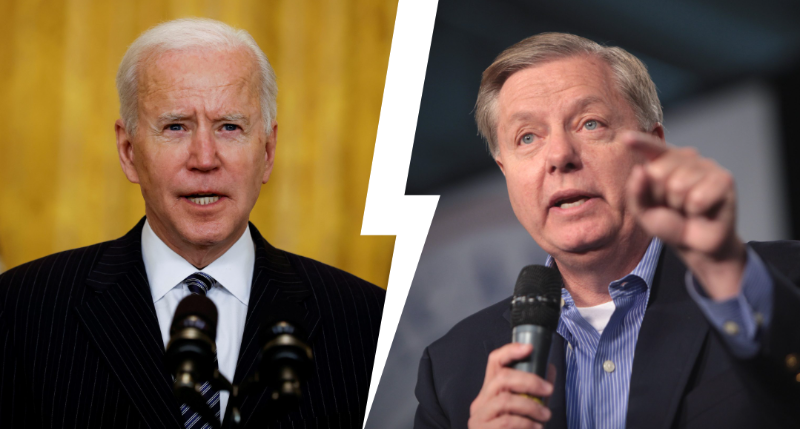 Sen. Lindsey Graham (R-S.C.) says President Joe Biden committed an impeachable offense by sticking to an Aug. 31 deadline to withdraw from Afghanistan.
During Tuesday night's appearance on Fox News, Graham was asked by host Sean Hannity, "[Does] this not rise to the level of dereliction of duty? Abandoning Americans in a foreign country, not getting them out when you had control of Kabul in May, June, July. Not doing the right thing, getting them out… There's no consequences for that except politically?"
"He should be impeached. This is dereliction of duty by the commander-in-chief. This makes it harder to fight future wars," Graham responded.
Advertisement - story continues below
Watch the video below:
Lindsey Graham: He should be impeached… This makes it harder to fight future wars pic.twitter.com/kUr31bjenV

— Acyn (@Acyn) August 25, 2021
Graham's comments come as Biden decided to stick by an Aug. 31 deadline to withdraw U.S. troops from Afghanistan.
The House House says the U.S. has "evacuated and facilitated the evacuation of approximately 82,300 people on US military and coalition flights" since Aug. 14.
Advertisement - story continues below
White House Press Secretary Jen Psaki said that the U.S. aims to meet the Aug. 31 deadline, but highlighted a portion of a statement that said the withdrawal will be based on "the achievement of our objectives."
During remarks at the White House on Tuesday, Biden said the U.S. is "currently on pace to finish by Aug. 31." However, he added, "The sooner we can finish, the better. Each day of operations brings added risk to our troops."
Do you think Biden should be impeached?
The Taliban has warned that if the U.S. stays beyond the deadline, there would be "consequences."
Last week, Graham said, "If we leave one American behind, if we don't get all those Afghans who stepped up to the plate and helped us out, then Joe Biden, in my view, has committed a high crime and misdemeanor under the Constitution and should be impeached."
Some lawmakers have said they do not believe the U.S. will be able to complete the evacuations by the end of the month.
Truth and Accuracy
We are committed to truth and accuracy in all of our journalism. Read our editorial standards.
Comment Down Below
Conversation