News
Biden Says Date for Evacuation Efforts in Afghanistan Could Be Extended —Taliban Issues Warning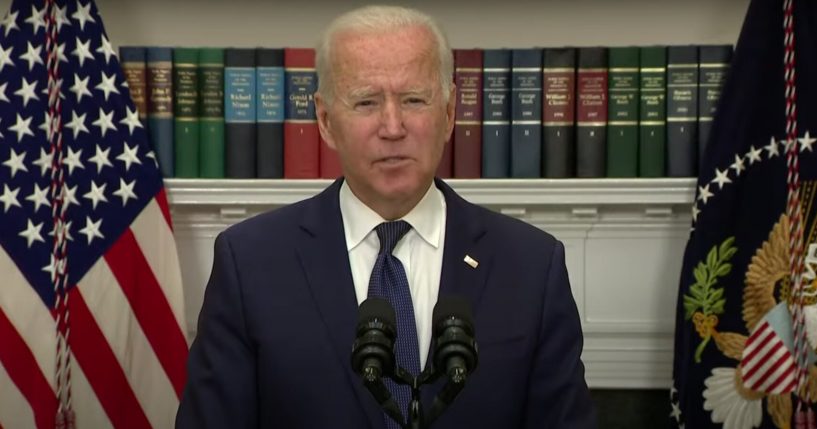 President Joe Biden indicated that there were discussions among officials about extending the evacuation efforts in Afghanistan beyond August 31.
A reporter asked Biden on Sunday, "Will you extend that deadline, or what is your thought process on extending the evacuation operation?"
Biden replied, "There's discussions going on among us and the military about extending. Our hope is we will not have to extend but there are going to be discussions I suspect on how far along we are in the process."
Advertisement - story continues below
Watch his remarks below:
Taliban spokesperson Dr Suhail Shaheen issued a warning to Biden if he chooses to extend the evacuation effort.
He told Sky News, "It's a red line. President Biden announced that on 31 August they would withdraw all their military forces. So if they extend it that means they are extending occupation while there is no need for that."
Advertisement - story continues below
Shaheen added, "If the US or UK were to seek additional time to continue evacuations – the answer is no. Or there would be consequences."
He suggested it "will create mistrust between us. If they are intent on continuing the occupation it will provoke a reaction."
Should the evacuation effort be extended?
While delivering remarks on Friday, Biden told "any American who wants to come home" from Afghanistan, "We will get you home."
He continued, "Make no mistake, this evacuation mission is dangerous and involves risks to our armed forces, and it's being conducted under difficult circumstances. I cannot promise what the final outcome will be or what it will be, that it will be without risk of loss."
Biden reassured Americans he will "mobilize every resource necessary, and as an American, I offer my gratitude to the brave men and women of the U.S. armed forces who are carrying out this mission. They're incredible."
Advertisement - story continues below
According to an estimate by a State Department spokesperson, there are between 5,000 and 10,000 American citizens in Afghanistan. The spokesperson also said the department does not have a list of all of the Americans because they do not have to let the government know when they leave the country.
A White House official said in a statement, "Since August 14, the U.S. has evacuated and facilitated the evacuation of approximately 37,000 people. Since the end of July, we have relocated approximately 42,000 people."
Truth and Accuracy
We are committed to truth and accuracy in all of our journalism. Read our editorial standards.
Comment Down Below
Conversation