News
Graham Slams Proposal To Add Immigration To Infrastructure Bill: 'Dumbest Idea'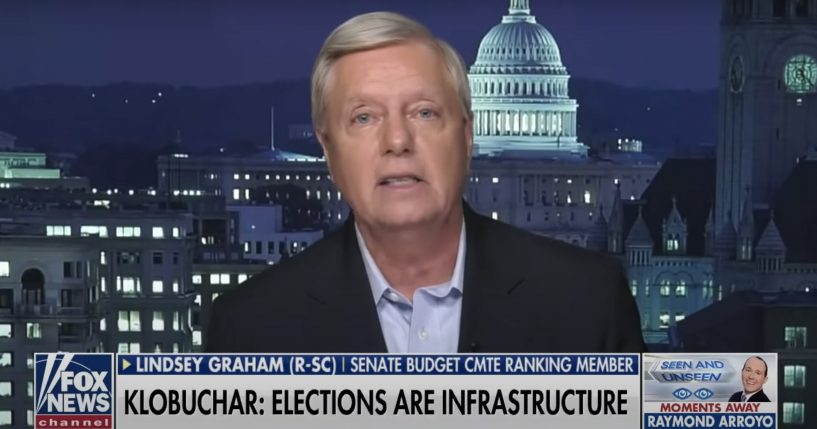 Adding a provision that would grant amnesty to undocumented immigrants to an infrastructure bill would be a bad idea, according to Sen. Lindsey Graham (R-S.C.).
During Monday's appearance on Fox News, Graham called the bill a "power grab," adding, "The $3.5 trillion Democratic infrastructure package has got not a damn thing to do with infrastructure."
He continued, "They're wanting to put amnesty in the infrastructure bill."
Advertisement - story continues below
Graham explained, "If you give one person legal status, there will be a run on our border like you have never seen before. The dumbest idea in the history of the Senate, the history of the White House. It will lead to the breakdown of law and order beyond what you see today."
Watch the interview below:
The senator went on to criticize the president for his handling of the situation at the U.S.-Mexico border.
Advertisement - story continues below
"President Biden's a nice fella who doesn't know what he's doing," Graham said.
He also took a swipe at Vice President Kamala Harris, saying, "The vice president went to the border. What did she learn? What has she done? She visited the border. It's worse now."
Is it the "dumbest idea?"
During an appearance on Fox News' "Sunday Morning Futures," Graham suggested he would leave to block the bill.
"If for some reason they pass reconciliation a budget resolution to bring that bill to the floor of the United States Senate, the $3.5 trillion bill, you gotta have a quorum to pass a bill in the Senate. I would leave before I'd let that happen," Graham said.
He added, "So to my Republican colleagues, we may learn something from our Democratic friends in Texas when it comes to avoiding $3.5 trillion tax and spend package. Leave town."
Advertisement - story continues below
Texas Democrats fled the state last week to block Republican voting restrictions.
"Hey, Vice President Harris, if you think these people are heroes, well, then I expect you to show up and pat us on the back. Hell yeah, I would leave," Graham continued.
Truth and Accuracy
We are committed to truth and accuracy in all of our journalism. Read our editorial standards.
Comment Down Below
Conversation