News
Graham Has a Two Word Message for GOP on How To Block $3.5 Trillion Spending Bill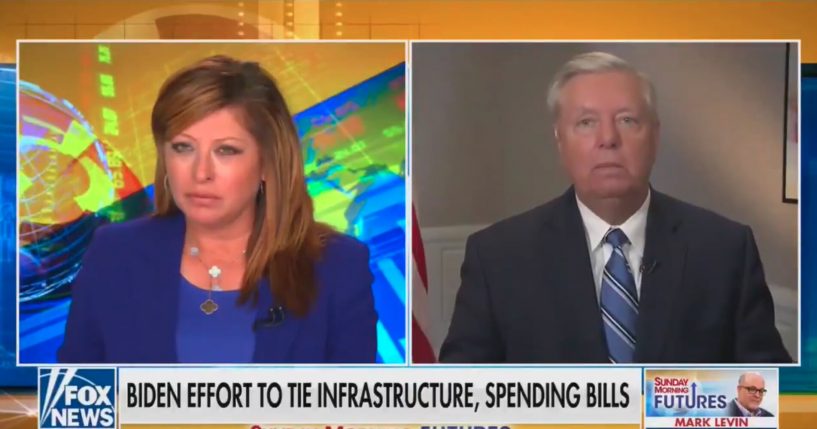 Sen. Lindsey Graham (R-S.C.) is suggesting that his Republican colleagues should borrow a page from the playbook of Texas Democratic lawmakers who fled the state to block the passage of a controversial voting bill.
During an appearance on Fox News' "Sunday Morning Futures," Graham said, "If for some reason they pass reconciliation a budget resolution to bring that bill to the floor of the United States Senate, the $3.5 trillion bill, you gotta have a quorum to pass a bill in the Senate. I would leave before I'd let that happen."
"So to my Republican colleagues, we may learn something from our Democratic friends in Texas when it comes to avoiding $3.5 trillion tax and spend package. Leave town," he continued.
Advertisement - story continues below
When asked if he would leave the nation's capital to block the package of the spending bill, Graham said, "Hey, Vice President Harris, if you think these people are heroes, well then I expect you to show up and pat us on the back. Hell yeah, I would leave."
"I will use everything lawfully in my toolbox to prevent rampant inflation. A $3.5 trillion infrastructure package that's got nothing to do with infrastructure that is a tax and spend dream of the socialist left, if it takes me not showing up to stop that I will do it," he added.
Watch the video below:
Lindsey Graham says Republicans should leave DC to prevent Senate Democrats from passing an infrastructure bill via reconciliation pic.twitter.com/Uyjhw5ntny

— Aaron Rupar (@atrupar) July 18, 2021
Advertisement - story continues below
Last week, more than 50 Democratic Texas state lawmakers left the state in an effort to block Republicans from passing a controversial voting law by denying them a quorum — the number of lawmakers required to be present to conduct business.
Congressional Democrats are currently considering passing a $3.5 trillion infrastructure package through a process known as budget reconciliation which would let them pass the legislation with just 50 votes, with Vice President Kamala Harris casting the tie-breaking vote.
The Senate is currently split 50-50 between Democrats and Republicans, meaning every Democrat would have to vote for the spending bill for it to pass through reconciliation.
According to the Senate's website, "Article I, section 5 of the Constitution requires that a quorum (51 senators) be present for the Senate to conduct business."
"Often, fewer than 51 senators are present on the floor, but the Senate presumes a quorum unless a roll call vote or quorum call suggests otherwise," it added.
Truth and Accuracy
We are committed to truth and accuracy in all of our journalism. Read our editorial standards.
Comment Down Below
Conversation