News
Greene Says McCarthy 'Has a Problem' if He Wants to Become Speaker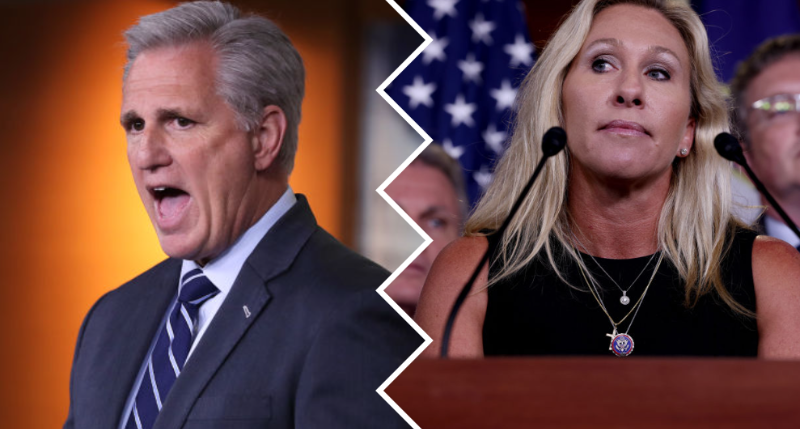 Rep. Marjorie Taylor Greene (R-Ga.) insists that as of right now, House Minority Leader Kevin McCarthy (R-Calif.) would have a "problem" if he wants to be speaker.
During an interview on the "Firebrand with Matt Gaetz" podcast, Greene said, "We know that Kevin McCarthy has a problem in our conference. He doesn't have the full support to be speaker."
"He doesn't have the votes that are there, because there's many of us that are very unhappy about the failure to hold Republicans accountable, while conservatives like me, Paul Gosar, and many others just constantly take the abuse by the Democrats. The American people aren't going to have it," she continued.
Advertisement - story continues below
Listen to the interview below:
The Georgia Congresswoman blasted McCarthy for what she felt was not a strong enough defense of her when Democrats moved to strip her of her committee assignments.
"Everyone saw me get stripped of committees as a brand new member of Congress, robbing my district of the ability to have representation working on committees. There was no action taken," Greene said.
Advertisement - story continues below
She continued, "As a matter of fact, our leader did nothing to defend me, did nothing to stop it. Then we saw today Paul Gosar censured, and then we saw him lose a committee, and this is another failure."
Greene was stripped of committee assignments earlier this year by the House over past controversial comments and alleged support of violence against Democrats. That vote came after House Republicans decided not to punish Greene.
Earlier this month, the House voted largely along party lines to censure Rep. Paul Gosar (R-Ariz.) and strip him of his committee assignments after he tweeted a controversial anime video, as IJR reported.
During a press conference earlier this month, McCarthy said Greene and Gosar would be given committee assignments if Republicans regain control of the House in the 2022 midterm elections. He added, "They may have better committee assignments."
Truth and Accuracy
We are committed to truth and accuracy in all of our journalism. Read our editorial standards.
Comment Down Below
Conversation