News
Jan. 6 Organizers Reportedly Met With Members of Congress, White House Staff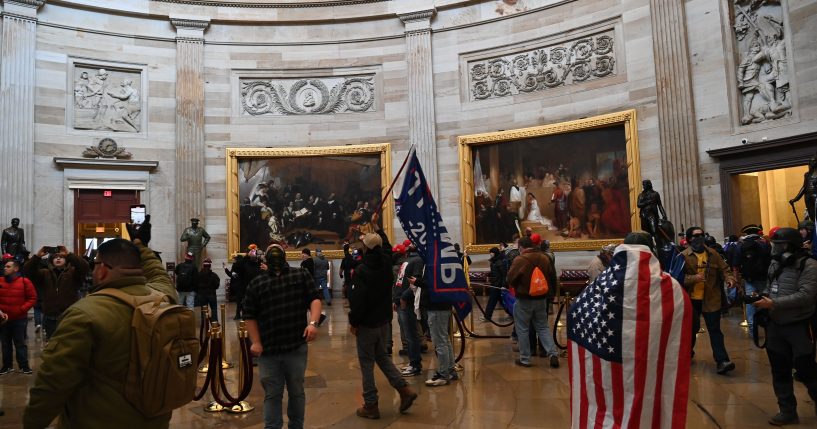 Organizers of the January pro-Trump rallies in Washington, D.C., are speaking out, claiming they met with members of Congress and White House staff, according to a report.
Rolling Stone's Hunter Walker reported on Sunday some of the planners of the pro-Trump rallies are now communicating with the House select committee investigating the January 6 riot at the U.S. Capitol.
According to Walker, two of these individuals have spoken to the outlet and "detailed explosive allegations that multiple members of Congress were intimately involved in planning both Trump's efforts to overturn his election loss and the Jan. 6 events that turned violent."
Advertisement - story continues below
Rolling Stone also confirmed a third person involved with planning the rally has spoken with the committee. The two sources confirmed to the outlet they "interacted with members of Trump's team, including former White House Chief of Staff Mark Meadows, who they describe as having had an opportunity to prevent the violence."
The two sources explained they participated in "dozens" of briefings ahead of January 6. One organizer said, "I remember Marjorie Taylor Greene specifically," adding, "I remember talking to probably close to a dozen other members at one point or another or their staffs."
Walker noted he would refer to one source as a "rally organizer" and the other as a "planner" for clarity. Both sources were involved in planning the main event, as Walker reports.
The sources told Rolling Stone they had conversations with other members of Congress or their staffers, including Rep. Paul Gosar (R-Ariz.), Rep. Lauren Boebert (R-Colo.), Rep. Mo Brooks (R-Ala.), Rep. Madison Cawthorn (R-N.C.), Rep. Andy Biggs (R-Ariz.), and Rep. Louie Gohmert (R-Texas).
Advertisement - story continues below
The organizer said, "We would talk to Boebert's team, Cawthorn's team, Gosar's team like back to back to back to back."
Both sources claimed Gosar proposed a possible "blanket pardon."
"Our impression was that it was a done deal," the organizer said, "That he'd spoken to the president about it in the Oval … in a meeting about pardons and that our names came up. They were working on submitting the paperwork and getting members of the House Freedom Caucus to sign on as a show of support."
The pair reportedly received "several assurances" about the blanket pardon. Gosar allegedly said, "I was just going over the list of pardons and we just wanted to tell you guys how much we appreciate all the hard work you've been doing."
Walker reported that the outlet "obtained documentary evidence" showing both sources were in communication with Gosar and Boebert on January 6.
Advertisement - story continues below
He noted Gosar's chief of staff, Thomas Van Flein, was included in the committee's "sweeping" requests seeking documents and other communication from the Trump administration.
Both sources said they expect to testify publicly. The planner told Rolling Stone, "I have no problem openly testifying."
Truth and Accuracy
We are committed to truth and accuracy in all of our journalism. Read our editorial standards.
Comment Down Below
Conversation