News
Jill Biden Has Reportedly Changed Her Mind About Her Husband Running Again in 2024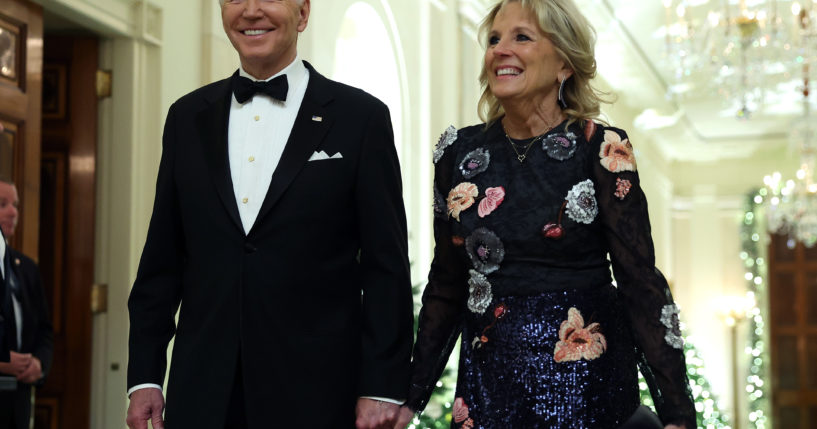 First Lady Jill Biden has changed her mind about her husband running for the White House again in 2024, according to a report.
CNN reported Jill Biden's private conversations about President Joe Biden running again "now match her publicly enthusiastic persona, as well as the sentiments" of her husband, citing seven sources.
The outlet pointed out Jill Biden was mostly skeptical about the move as of early fall, or "not a proponent," as one person familiar with her thinking explained to CNN.
Advertisement - story continues below
However, since the midterm elections, friends of the first lady recognized there has been a change.
An individual who works with the East Wing told CNN Jill Biden is currently "all in" on the idea of Joe Biden running for reelection.
Even after being "exhausted" from recent high-profile events, another person said, "She has begun to say the quiet part out loud."
According to the report, conversations the Biden family was expected to have around 2024 were supposed to be set for Christmas.
Advertisement - story continues below
However, three of the people familiar to the subject told CNN the family is not expected to be in the same place at the same time for Christmas, "making convening for a debate or a consensus more complicated," as the outlet reported.
"She'll be at the White House for Christmas. They will be joined by members of their families," Vanessa Valdivia, Jill Biden's press secretary, said.
Do you think she should be "all in" for her husband's reelection campaign?
A senior advisor for the first lady explained, "As the president has said, he intends to run for reelection and that is something both Dr. Biden and the family fully support."
When asked if Jill Biden is ready to hit the campaign trail again for a 2024 bid, the senior Biden adviser said, "She is ready and fully supportive."
While Jill Biden is seemingly supportive of another run, others have urged the president to step aside.
Advertisement - story continues below
The group RootsAction is running an ad in New Hampshire showing people explaining why he should not run again, as IJR reported.
Check out the ad below:
A CNBC All-America Economic Survey found an overwhelming 70% believe Joe Biden should not run for a second term and only 19% are in support of another run.
Truth and Accuracy
We are committed to truth and accuracy in all of our journalism. Read our editorial standards.
Comment Down Below
Conversation