News
Manchin Told Biden He Would Ditch Dem Party If It Was 'Embarrassing' to Have a Moderate 'In the Mix'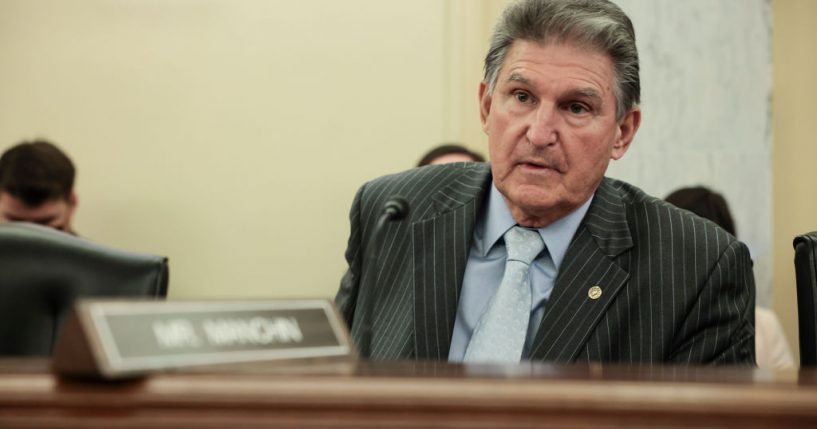 Sen. Joe Manchin (D-W.Va.) says he has not threatened to leave the Democratic Party, but has offered to if it would "help" the party "publicly."
Manchin insisted that a report that he was considering leaving the Democratic Party if his demands on a $3.5 trillion spending bill were not met is "simply untrue."
"I'm not threatening to leave. Why would I? I'm very secure in my positions, and honestly, I'm not the one stressed out," he told The Hill.
Advertisement - story continues below
Instead, Manchin said, "What is true is that I have told the president, Chuck Schumer, and even the whole caucus that if it is 'embarrassing' to them to have a moderate, centrist Democrat in the mix and if it would help them publicly, I could become an Independent — like Bernie — and then they could explain some of this to the public saying it's complicated to corral these two Independents, Bernie and me." 
There are 48 Democratic senators and two independents Sens. Bernie Sanders (Vt.) and Angus King (Maine), who caucus with the Democrats, giving them control of the Senate.
Manchin's comments come a day after a report from Mother Jones claimed he was considering switching parties "if President Joe Biden and Democrats on Capitol Hill do not agree to his demand to cut the size of the social infrastructure bill from $3.5 trillion to $1.75 trillion."
If Manchin were to switch parties or become an independent, it could dramatically shift the balance of power in the chamber and pose a significant challenge to Biden's agenda and efforts to pass a massive $3.5 trillion spending bill. Without his vote, Democrats would be unable to pass the bill.
Advertisement - story continues below
The report also said it was "unclear whether in this scenario Manchin would end up caucusing with the Democrats, which would allow them to continue to control the Senate, or side with the Republicans and place the Senate in GOP hands.
But, Manchin smacked down that report while speaking to reporters on Wednesday. He said, "I can't control rumors, and it's bullsh*t, bullsh*t spelled with a B, U, L, L, capital 'B.'"
Truth and Accuracy
We are committed to truth and accuracy in all of our journalism. Read our editorial standards.
Comment Down Below
Conversation