McConnell Reportedly Leaning Toward Impeaching Trump: 'Better Than 50-50 Chance'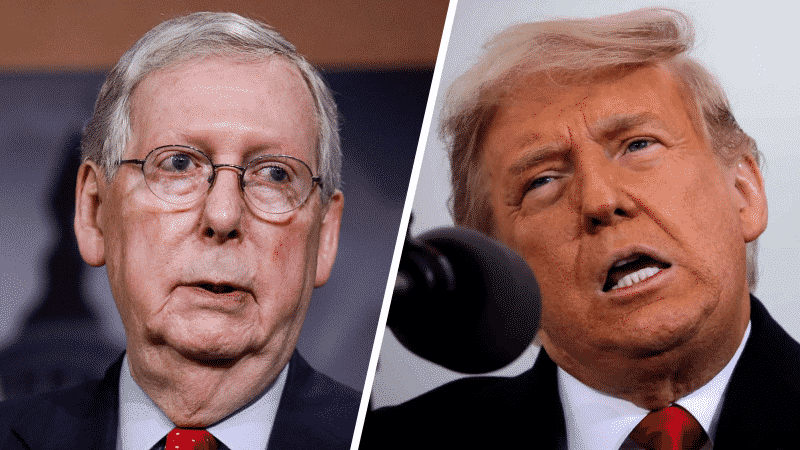 Senate Majority Leader Mitch McConnell (R-Ky.) is reportedly leaning toward convicting President Donald Trump.
Axios reports that there is a "better than 50-50 chance" McConnell would vote in support of the impeachment of Trump.
A Republican aide close to the Senate leader told Axios, "The Senate institutional loyalists are fomenting a counterrevolution" to the president.
Additionally, The New York Times reports that McConnell "has told associates that he believes President Trump committed impeachable offenses and that he is pleased that Democrats are moving to impeach him, believing that it will make it easier to purge him from the party."
Citing three Republican officials, the Times also reports House Minority Leader Kevin McCarthy (R-Calif.) has asked Republicans if he should call for Trump to resign.
Trump told reporters on Tuesday the impeachment effort is "absolutely ridiculous" and suggested that "it's causing tremendous danger to our country, and it's causing tremendous anger."
President Trump speaks to media at White House: "We want no violence…on the impeachment, it's really a continuation of the greatest witch hunt in the history of politics…I think it's causing tremendous danger in to our country…I want no violence." pic.twitter.com/XjiIfLrrTS

— CSPAN (@cspan) January 12, 2021
The House of Representatives is set to vote to impeach Trump, charging him with "incitement of insurrection," on Wednesday. At least five Republican lawmakers have shown support for the impeachment.
House Republican Conference Chair Liz Cheney (R-Wyo.) made known on Tuesday that she will support impeaching Trump.
Touching on the U.S. Capitol riot on Jan. 6, Cheney said in a statement, "The President of the United States summoned this mob, assembled the mob, and lit the flame of this attack. Everything that followed was his doing."
Additionally, Rep. Adam Kinzinger (R-Ill.) shared he will vote to impeach the president, "There is no doubt in my mind that the President of the United States broke his oath of office and incited this insurrection," adding, "I must consider: If these actions — the Article II branch inciting a deadly insurrection against the Article I branch — are not worthy of impeachment, then what is an impeachable offense?"