News
Milley Spokesman Defends Secret Phone Calls He Reportedly Had With Chinese Counterpart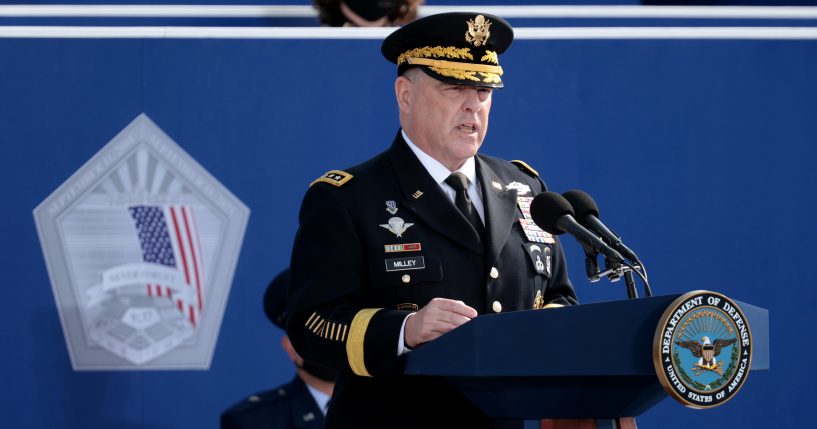 A spokesman for Chairman of the Joint Chiefs of Staff Gen. Mark Milley defended his alleged secret phone calls with his Chinese counterpart during the final months of the Trump administration.
In their upcoming book titled "Peril," Washington Post associate editor Bob Woodward and journalist Robert Costa reported Milley called his Chinese counterpart, Gen. Li Zuocheng of the People's Liberation Army, to assure him the United States would not attack in the former president's final months in office.
The spokesman argued in his statement, "These conversations remain vital to improving mutual understanding of U.S. national security interests, reducing tensions, providing clarity and avoiding unintended consequences or conflict."
Advertisement - story continues below
They added, "His calls with the Chinese and others in October and January were in keeping with these duties and responsibilities conveying reassurance in order to maintain strategic stability."
According to the spokesman, all calls from Milley to his counterparts are "staffed, coordinated and communicated with the Department of Defense and the interagency."
Read the spokesman's statement below:
NEW via @CBSDavidMartin:
A spokesman for General Mark Milley defends the phone calls he had with his Chinese counterpart, as reported by @realBobWoodward and @costareports. They wrote that Milley reassured China 2X that U.S. was not going to strike, which is not disputed here: pic.twitter.com/lvB68FiWk1

— Weijia Jiang (@weijia) September 15, 2021
Advertisement - story continues below
Milley reportedly said during his conversation with Gen. Li Zuocheng, "General Li, I want to assure you that the American government is stable and everything is going to be okay. We are not going to attack or conduct any kinetic operations against you."
He continued, "General Li, you and I have known each other for now five years. If we're going to attack, I'm going to call you ahead of time. It's not going to be a surprise."
Retired Lt. Col. Alexander Vindman called on Milley to resign, saying in a tweet, "If this is true GEN Milley must resign."
He added, "He usurped civilian authority, broke Chain of Command, and violated the sacrosanct principle of civilian control over the military. It's an extremely dangerous precedent. You can't simply walk away from that."
Former President Donald Trump suggested Milley committed treason during an interview with Newsmax on Tuesday.
Truth and Accuracy
We are committed to truth and accuracy in all of our journalism. Read our editorial standards.
Comment Down Below
Conversation