News
MSNBC Anchor: It Is 'Insane' US Is 'Not Self-Reliant on Our Own Energy'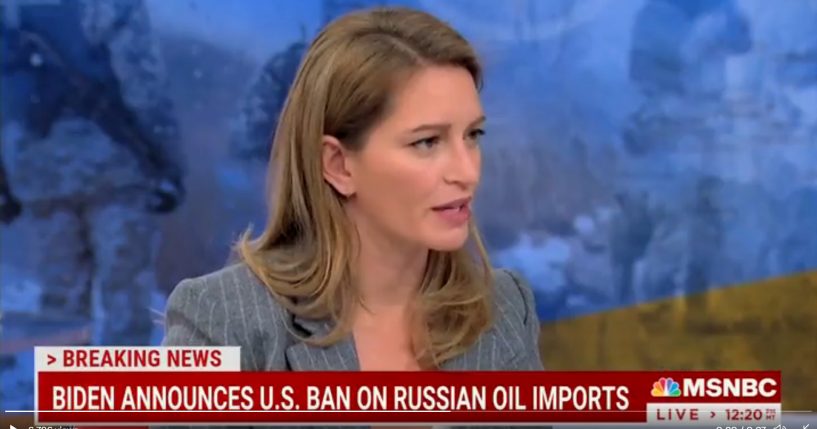 MSNBC anchor Katy Tur questioned why the United States is "not self-reliant on our own energy."
During "Katy Tur Reports" the host noted the U.S. only uses "about 8 percent" of Russian oil, adding, "Again, the allies would need to get involved because so much of Europe is dependent on Russian oil."
She continued, "It also — something that Sen. Chris Murphy of Connecticut brought up today was, this just exposes how insane it is that we rely on energy from authoritarian leaders, and we are not self-reliant on our own energy. A lot of talk about why we don't go green."
Advertisement - story continues below
Check out her comments below:
Tom Elliott on Twitter: "MSNBC's @KatyTur on the U.S. importing Russian oil: "This just exposes how insane it is that we rely — we rely on energy from authoritarian leaders and we are not self-reliant on our own energy." https://t.co/GK9Q8vUEEm" / Twitter
On Tuesday, Biden announced the United States would be banning all imports of Russian oil, gas, and energy, as IJR reported.
Additionally, the president pushed back against the claim that his administration or policies are "holding back domestic energy production."
Advertisement - story continues below
He explained, "It's simply not true. Even amid the pandemic, companies in the United States pumped more oil during my first year in office than they did during my predecessor's first year. We're approaching a record level of oil and gas production in the United States, and we're on track to set a record of oil production next year."
The announcement comes as Americans grow more concerned about prices at the pump. When asked about gas prices, Biden replied, "They're gonna go up."
Is it "insane" the U.S. is not self-reliant on its own energy?
He added, "Can't do much right now. Russia's responsible."
CNN reported that gas spiked to $4.25 for a gallon of regular gas, citing AAA's survey Wednesday. The outlet noted gas prices could rise up to $4.50 a gallon before they begin to drop.
Truth and Accuracy
We are committed to truth and accuracy in all of our journalism. Read our editorial standards.
Comment Down Below
Conversation