News
NBC Reporter Mistakes Anti-Biden Chant at NASCAR Race for Something Else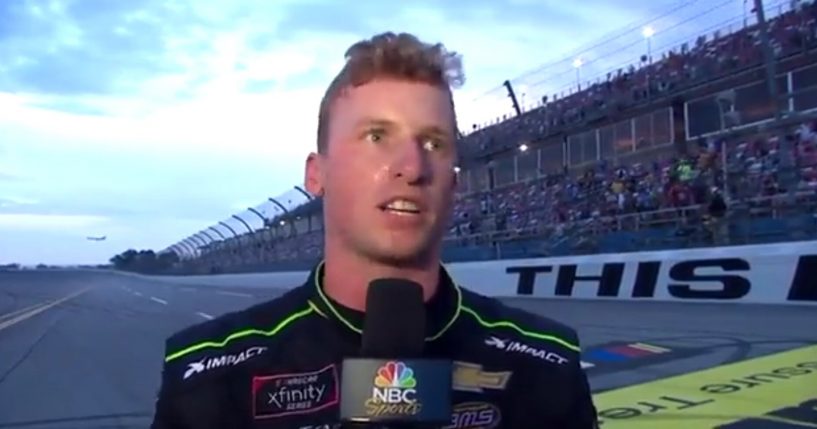 An NBC reporter thought she heard cheers for NASCAR race winner Brandon Brown when they were really chanting "f***" President Joe Biden.
During an interview with NBC Sports, Brown thanked his partners and sponsors. He added, "It's just such an unbelievable moment."
The crowd began to chant, "F**** Joe Biden." NBC Sports reporter Kelli Stavast commented on their chants, saying, "As you can hear the chants from the crowd, 'Let's go Brandon!"
Advertisement - story continues below
The New York Post noted Brown won his first NASCAR Xfinity Series race at Alabama's Talladega Superspeedway over the weekend.
Watch the video below:
This NASCAR interview is amazing. Is she really not aware what they're chanting? pic.twitter.com/46XXEpb3R6

— Clay Travis (@ClayTravis) October 3, 2021
Fox News reported NASCAR posted the footage of the interview but then took the tweet down.
Advertisement - story continues below
Sen. Ted Cruz (R-Texas) responded to the interview in a tweet, saying, "This…is…bizarre."
This…is…bizarre. https://t.co/OlobagNOlz

— Ted Cruz (@tedcruz) October 4, 2021
This is not the first time a crowd at a sports event broke out into anti-Biden chants. Last month, Fox News pointed out college football fans also chanted "f*** Joe Biden."
Donald Trump Jr. told David Hookstead he believes crowds will continue the chants against Biden, as the outlet notes. He claimed Biden's presidency has "gotten so bad that the media can't run cover for him anymore." 
The former president's son continued, "When you look at Afghanistan, and I can go through fifty points on it, $65 to $80 billion of equipment left to our enemies, giving them a kill list of American citizens, giving them the biometric scanners…pulling out the military before you pull out civilians. The list goes on and on."
Advertisement - story continues below
Nate Cohn of The New York Times reported on Friday that Biden's approval ratings have dropped "considerably" among certain Democratic groups.
"The as-yet unanswerable question is whether that slide is a momentary dip – a fluke of a tough run of headlines- or a warning sign of even deeper dissatisfaction among Democratic-leaning voters," Cohn wrote.
He suggested the "enactment of the president's stalled legislative initiatives in Congress would be enough for the president to renew his reputation with Democratic-leaning voters."
Truth and Accuracy
We are committed to truth and accuracy in all of our journalism. Read our editorial standards.
Comment Down Below
Conversation