Commentary
Newsom Asks Merrick Garland to Consider 'Kidnapping' Charges Over GOP Governors Busing Migrants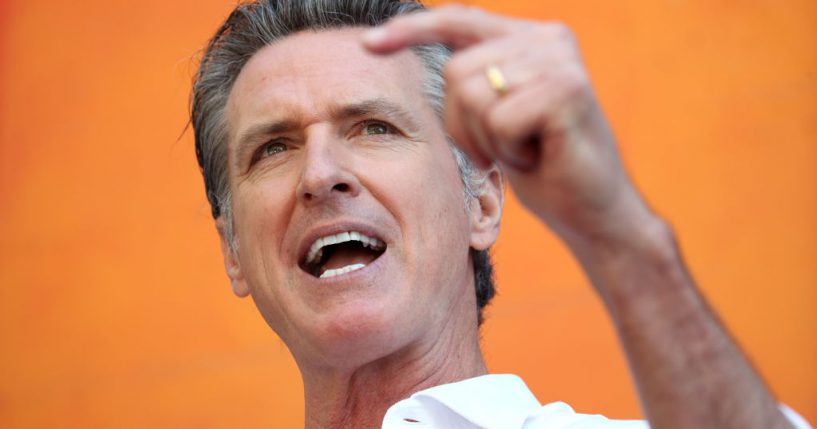 California Gov. Gavin Newsom (D) is wading into the controversy around Republican governors busing and flying migrants to other parts of the country.
This week, Florida Gov. Ron DeSantis (R) and Texas Gov. Greg Abbott (R) escalated the effort by sending migrants to Martha's Vineyard and near Vice President Kamala Harris' home.
In a letter to Attorney General Merrick Garland on Thursday, Newsom wrote that he has been "horrified by images of migrants being shipped on buses and planes across the country to be used as a political prop."
Advertisement - story continues below
He argued that moving migrants across the country "under false pretenses is morally reprehensible" and may be illegal. The governor referenced allegations that migrants flown to Martha's Vineyard were "induced" to get on the planes to the island based on "false representations that they could be transported to Boston and would receive expedited access to work authorization."
"I urge US DOJ to investigate whether the alleged fraudulent inducement would support charges of kidnapping under relevant state laws," Newsom wrote.
He also argued that the governors intended to "humiliate and dehumanize" the migrants and that there could be other charges for those involved.
Read the letter below:
Advertisement - story continues below
Governor Newsom calls on @TheJusticeDept to investigate interstate transportation of migrants. pic.twitter.com/BngmCsgdY7

— Office of the Governor of California (@CAgovernor) September 15, 2022
From a purely political standpoint, the decision to bus and fly migrants to other parts of the country is genius.
The move led Democrat politicians who accused Republicans of being xenophobic to admit that there is a finite amount of resources to address migrant influxes. That is the same situation in border states.
It is also hard to argue that it's unfair because these jurisdictions did not have advanced notice of their arrival. Texas and Arizona do not really get a heads-up when migrants cross the border. While Democratic leaders warn about the strain on resources, they cannot explain why Texas and Arizona deserve — merely because of their proximity to the border — to face the same strain.
But looking at the human aspect of this, it's not good to treat people as pawns and fly them across the country and then say, "OK, well, you're on your own now. See you never!" And it's especially not good if it turns out the migrants were falsely promised assistance that they never receive.
Advertisement - story continues below
These are people and, regardless of how they entered the country, they have inherent dignity, and no one should be treated like objects or tools in a political game.
There is also another issue. While we're so divided as a country, these migrant flights and bus trips are starting to pit states against each other. Now Newsom is suggesting that there should be kidnapping charges.
None of this can be good for interstate cooperation or to help heal divisions. It will have to be awkward if there are any meetings or calls with Republican governors and Newsom if he is pushing for kidnapping charges for those involved in the migrant transportation plots.
Yes, the transportation of migrants makes a point and puts pressure on lawmakers to come up with a solution to the immigration issue. But there could be a real cost to how we view our fellow states and citizens, especially if there is no change to immigration laws in the end.
Truth and Accuracy
We are committed to truth and accuracy in all of our journalism. Read our editorial standards.
Comment Down Below
Conversation