News
Migrant Buses Arrive Near Kamala Harris' Residence in DC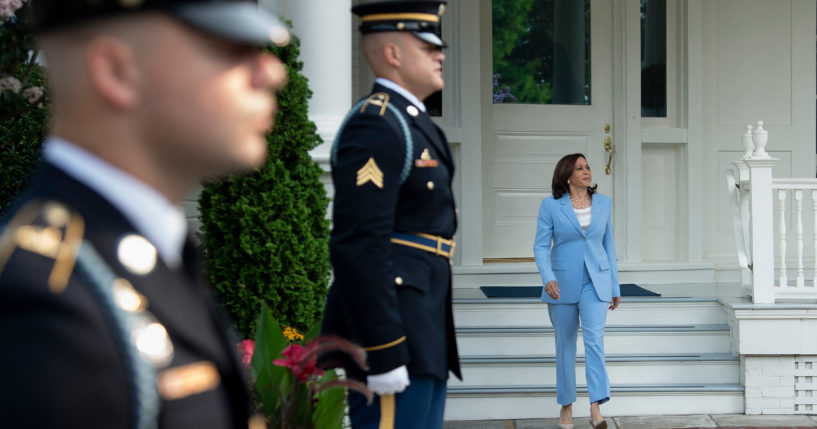 Two buses of migrants were sent near Vice President Kamala Harris' Washington, D.C., residence.
Fox News reported that Texas Gov. Greg Abbott (R) sent between 75 and 100 migrants on buses to the nation's capital.
The group of migrants reportedly included people from Venezuela, Uruguay, Colombia and Mexico.
Advertisement - story continues below
Fox News' Griff Jenkins asked one of the women getting off of the bus if Harris says the border is closed.
"She says it's open," Jenkins reported.
Watch the video below:
🚨Breaking: Two migrant buses from Southern Border just arrived outside Kamala Harris residence at Naval Observatory in DC. pic.twitter.com/41QnF3p16W

— Real Mac Report (@RealMacReport) September 15, 2022
Advertisement - story continues below
The report comes just one day after Florida Gov. Ron DeSantis (R) took credit for sending planes full of migrants to Martha's Vineyard in Massachusetts.
"Florida can confirm the two planes with illegal immigrants that arrived in Martha's Vineyard today were part of the state's relocation program to transport illegal immigrants to sanctuary destinations," DeSantis' office said in a statement obtained by CNN.
Was this the right place to send them?
The statement continues, "States like Massachusetts, New York, and California will better facilitate the care of these individuals who they have invited into our country by incentivizing illegal immigration through their designation as 'sanctuary states' and support for the Biden Administration's open border policies."
CNN noted roughly 50 migrants arrived on Martha's Vineyard Wednesday.
Florida Gov. Ron DeSantis flew at least two planes of immigrants to Martha's Vineyard, escalating a tactic by Republican governors to draw attention to what they consider to be the Biden administration's failed border policies. @KerryNBC is bringing us the breaking details. pic.twitter.com/C5s5vmch4k

— TODAY (@TODAYshow) September 15, 2022
Advertisement - story continues below
Massachusetts state Sen. Julian Cyr, a Democrat, told CNN there was "no advance notice to anyone in Martha's Vineyard or Massachusetts that these migrants were arriving to my knowledge."
He continued, "The island scrambled to respond. They essentially set up shelters, the equivalent of a hurricane or Nor'easter. They set that up in a matter of hours and these families received a meal. They were Covid tested and are spending the night in shelters at several churches on the island."
Harris recently received criticism for her claim that the border is "secure," as IJR reported.
Sen. Joe Manchin (D-W.Va.) said during an interview with Fox News that Harris is "dead wrong on that."
Advertisement - story continues below
The vice president made the claim while speaking with host of NBC's "Meet the Press" Chuck Todd.
Truth and Accuracy
We are committed to truth and accuracy in all of our journalism. Read our editorial standards.
Comment Down Below
Conversation