News
Pelosi Calls on Barr and Sessions To Testify on Data Seizures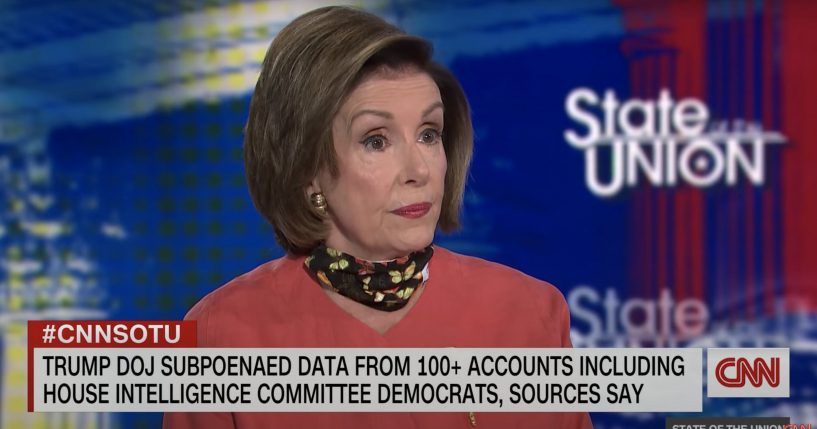 House Speaker Nancy Pelosi (D-Calif.) is urging former Attorneys General William Barr and Jeff Sessions to testify before Congress on reports that former President Donald Trump's Justice Department seized records from at least two Democrats on the House Intelligence Committee.
"What the administration did, the Justice Department, under the leadership of the former president goes even beyond Richard Nixon," Pelosi said during an appearance on CNN's "State of the Union" Sunday.
She added, "Richard Nixon had an enemies list. This is about undermining the rule of law and for this attorneys general … to say that they didn't know anything about it is beyond belief. We will have to have them come under oath to testify about that."
Advertisement - story continues below
CNN's Dana Bash also pointed out Rod Rosenstein, who served as deputy attorney general in the Trump administration, said he did not know anything about the subpoenas.
When asked if she would subpoena them if she did not see them voluntarily testify on Capitol Hill, Pelosi responded, "Well let's hope they will want to honor the rule of law."
Watch Pelosi's interview below:
Advertisement - story continues below
The New York Times first reported the Justice Department was investigating "who was behind leaks of classified information early in the Trump administration" and "subpoenaed Apple for data from the accounts of at least two Democrats on the House Intelligence Committee, aides and family members. One was a minor."
The outlet noted the records were seized between 2017 and 2018.
The records of House Intelligence Committee Chairman Adam Schiff (D-Calif.) and Rep. Eric Swalwell (D-Calif.) were reportedly seized.
Senate Majority Leader Chuck Schumer (D-N.Y.) and Senate Majority Whip Dick Durbin (D-Ill.) called for an investigation into the reports, as IJR reported.
"The revelation that the Trump Justice Department secretly subpoenaed metadata of House Intelligence Committee Members and staff and their families, including a minor, is shocking. This is a gross abuse of power and an assault on the separation of powers," they said in a statement on Friday.
Advertisement - story continues below
Schumer and Durbin added, "This appalling politicization of the Department of Justice by Donald Trump and his sycophants must be investigated immediately by both the DOJ Inspector General and Congress."
They also called on Barr and Sessions to testify, saying, "If they refuse, they are subject to being subpoenaed and compelled to testify under oath."
Truth and Accuracy
We are committed to truth and accuracy in all of our journalism. Read our editorial standards.
Comment Down Below
Conversation