News
Senate Dems Call for Barr, Sessions To Testify About Apple Subpoenas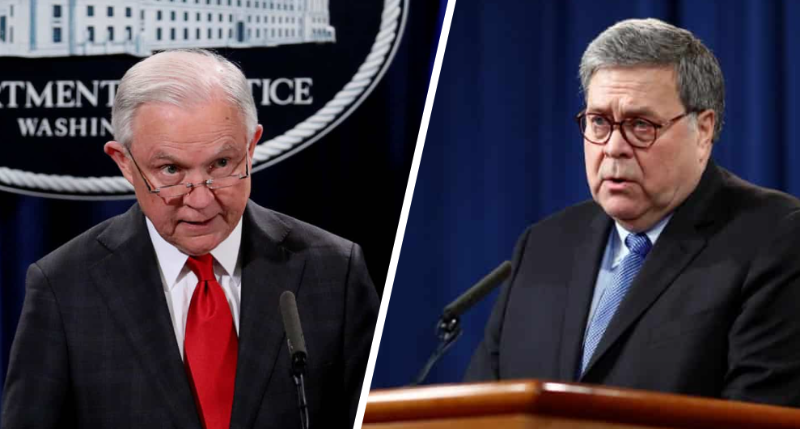 Two top Senate Democrats are calling for investigations into reports that the Department of Justice (DOJ) under former President Donald Trump seized records from at least two Democrats on the House Intelligence Committee.
In a joint statement on Friday, Senate Majority Leader Chuck Schumer (D-N.Y.) and Senate Majority Whip Dick Durbin (D-Ill.) said, "The revelation that the Trump Justice Department secretly subpoenaed metadata of House Intelligence Committee Members and staff and their families, including a minor, is shocking. This is a gross abuse of power and an assault on the separation of powers."
"This appalling politicization of the Department of Justice by Donald Trump and his sycophants must be investigated immediately by both the DOJ Inspector General and Congress," they continued.
Advertisement - story continues below
Finally, they said, "Former Attorneys General Barr and Sessions and other officials who were involved must testify before the Senate Judiciary Committee under oath. If they refuse, they are subject to being subpoenaed and compelled to testify under oath."
Read the statement below:
Schumer & Durbin are calling for former Attorneys General Bill Barr & Jeff Sessions + other officials involved in subpoenaing data of House Intel Democrats, their staff and family members to testify before the Senate Judiciary Committee pic.twitter.com/vS1tCDlBYS

— Ali Zaslav (@alizaslav) June 11, 2021
Their statement comes amid a report from The New York Times that the DOJ was conducting an investigation of leaks of classified information and "subpoenaed Apple for data from the accounts of at least two Democrats on the House Intelligence Committee, aides and family members."
Advertisement - story continues below
The Times reports that the seizure of the data occurred between 2017 and 2018.
House Intelligence Committee Chairman Adam Schiff (D-Calif.) and Rep. Eric Swalwell (D-Calif.) were reportedly among those whose records were seized.
CNN's Manu Raju reports that former Attorney General Jeff Sessions "was not involved in the subpoenas related to the House Committee."
Additionally, former Attorney General William Barr told Politico that he was "not aware of any congressman's records being sought in a leak case." 
He also said Trump did not direct him to target Democrats in the leak investigation, "He was not aware of who we were looking at in any of the cases."
Advertisement - story continues below
"I never discussed the leak cases with Trump. He didn't really ask me any of the specifics," he added.
Deputy Attorney General Lisa Monaco has reportedly asked the DOJ's inspector general to investigate the department's "handling of a leak investigation."
Truth and Accuracy
We are committed to truth and accuracy in all of our journalism. Read our editorial standards.
Comment Down Below
Conversation