News
Pelosi Shares There Will Be a Hearing on Afghanistan With Top Biden Officials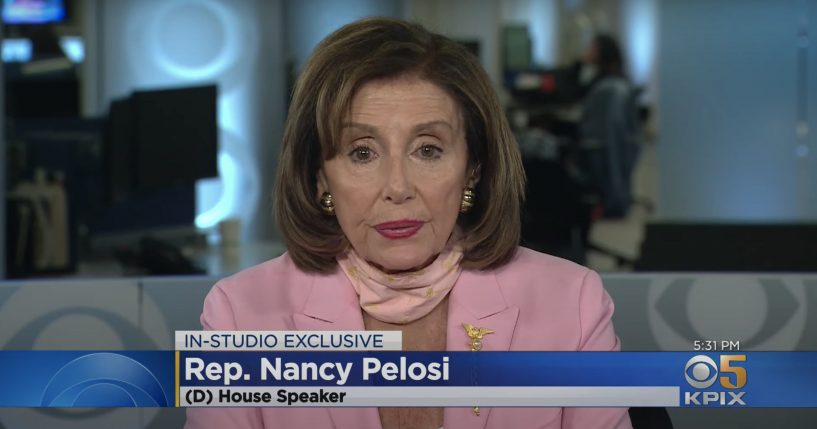 House Speaker Nancy Pelosi (D-Calif.) revealed that a hearing would take place "early next week" with top Biden officials on the situation in Afghanistan.
During an interview with San Francisco CBS affiliate KPIX, Pelosi was asked, "Will there be a Congressional investigation into the withdrawal from Afghanistan?"
She responded, "The chair of our Foreign Affairs Committee has announced today, to our caucus that there would, next week, early next week, be a hearing on this subject with the highest level of officials in the Biden administration."
Advertisement - story continues below
Pelosi continued, "That is Congress's role, the role of oversight. And that will take place early next week. At least it will begin then."
Watch Pelosi's interview below:
In a Tuesday statement, Chairman of the House Foreign Affairs Committee, Gregory W. Meeks, invited Secretary of State Antony Blinken and Secretary of Defense Lloyd Austin to testify at a hearing.
Advertisement - story continues below
"The situation in Afghanistan is rapidly changing and it is imperative that the administration provide the American people and Congress transparency about its Afghanistan strategy," Meeks said.
He added, "I have asked Secretaries Blinken and Austin to testify before the House Foreign Affairs Committee and tell Congress what the administration's plan is to safely evacuate American citizens, SIVs, and other vulnerable Afghans from the country, and to understand our broader counter terrorism strategy in South Asia following the collapse of the Ghani government."
During the same interview, Pelosi weighed in on President Joe Biden's execution of the withdrawal of U.S. forces from Afghanistan, as IJR reported.
"Well, first may I just say that I commend the president for the action that he took," she said. "It was strong, it was decisive, and it was the right thing to do. We should have been out of Afghanistan a while back."
She continued, "Unfortunately one of the possibilities was that it would be in disarray as it is. But that has to be corrected. It is my understanding from the assurances we have received that the military will be there negotiating with the Taliban for the safe exit of American citizens and friends, people who have helped us, our allies there."
Truth and Accuracy
We are committed to truth and accuracy in all of our journalism. Read our editorial standards.
Comment Down Below
Conversation