News
Pelosi Calls Biden's Afghanistan Withdrawal 'Strong' and 'Decisive' While Admitting It Is in 'Disarray'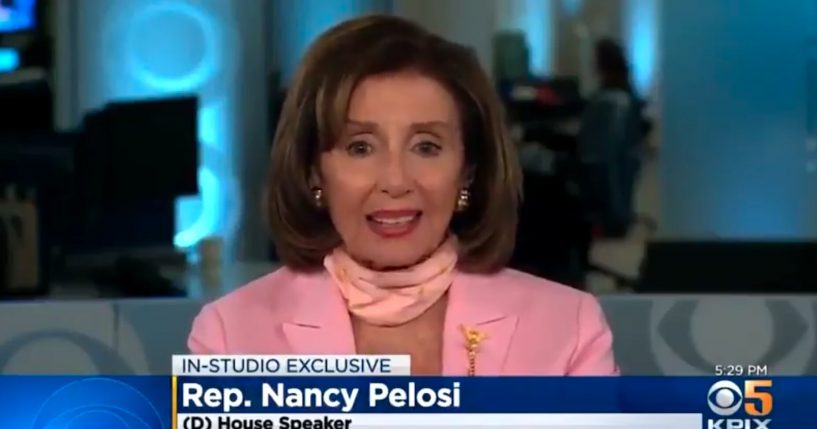 President Joe Biden has received bipartisan criticism for his execution of the withdrawal of U.S. forces from Afghanistan.
However, House Speaker Nancy Pelosi (D-Calif.) is hailing the decision to withdraw as a "strong" one.
During an appearance on San Francisco's KPIX, Pelosi was asked, "Should the Biden administration have had a stronger U.S. military presence for the transition?"
Advertisement - story continues below
"Well, first may I just say that I commend the president for the action that he took," the House speaker began. "It was strong, it was decisive, and it was the right thing to do. We should have been out of Afghanistan a while back."
She continued, "Unfortunately one of the possibilities was that it would be in disarray as it is. But that has to be corrected. It is my understanding from the assurances we have received that the military will be there negotiating with the Taliban for the safe exit of American citizens and friends, people who have helped us, our allies there."
Watch the video below:
Nancy Pelosi praises Joe Biden's Afghanistan withdrawal:

"I commend the President for the action that he took. It was strong. It was decisive." pic.twitter.com/PDlgPGcPGP

— The First (@TheFirstonTV) August 18, 2021
Advertisement - story continues below
Pelosi's comments come after the Taliban have taken control of Afghanistan following the drawn down of the U.S. military presence there.
The collapse of Afghanistan's government prompted thousands of Afghan people to rush to the Hamid Karzai International Airport in an attempt to flee the country. Videos surfaced showing some clinging to the sides of U.S. military jets.
Do you think it was the right decision?
Additionally, it has been reported that there are an estimated 10,000 to 15,000 American citizens still in the country looking for a way to get out.
A CBS News reporter shared a memo on Twitter that was sent to Americans in Afghanistan looking to leave the country. It read, "Thank you for registering your request to be evacuated from Afghanistan. The U.S. embassy in Afghanistan has confirmed that an undefined number of U.S. government-provided flights will begin soon. Please make your way to Hamid Karzai International Airport at this time."
"PLEASE BE ADVISED THAT THE UNITED STATES CANNOT GUARANTEE YOUR SECURITY AS YOU MAKE THIS TRIP," the memo added.
Truth and Accuracy
We are committed to truth and accuracy in all of our journalism. Read our editorial standards.
Comment Down Below
Conversation