News
Sinema Confronted by Protesters at DC Airport Over Biden's 'Build Back Better' Agenda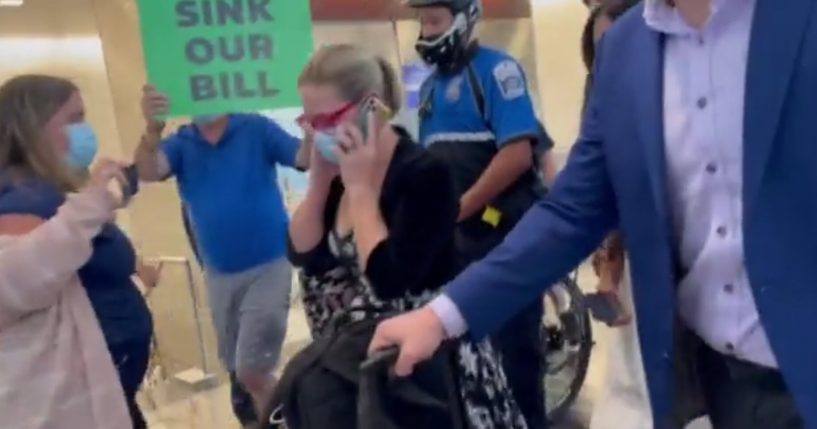 Sen. Kyrsten Sinema (D-Ariz.) was confronted by protesters over why she will not support President Joe Biden's "Build Back Better" agenda.
A group approached Sinema at Reagan National Airport in Washington, D.C., where she was asked by Green New Deal Network chief of staff Kunoor Ojha, "Hi, Senator Sinema? I want to ask if you can explain to the American people what you're planning on cutting from Joe Biden's 'Build Back Better' plan?"
Ojha added, "Do you want to cut climate priorities? Is it elder care that you want to cut, or is it child care?"
Advertisement - story continues below
Just trying to get an explanation from @SenatorSinema on what she'd cut from #BuildBackBetter, but it's almost like she has no idea 🤷‍♀️ #HoldTheLine pic.twitter.com/dPIcSK4mo2

— People's Watch (@Peoples_Watch_) October 4, 2021
One protester following the senator carried a sign, reading, "Don't sink our bill." The senator previously said she will not support a $3.5 trillion spending plan.
Sinema was not only confronted by protesters in the airport. The lawmaker was also approached on the plane and was asked if she can "commit to passing a reconciliation [bill] that could provide a pathway to citizenship for immigrants."
The person is Karina, who is a Consideration of Deferred Action for Childhood Arrivals (DACA) recipient.
Advertisement - story continues below
She asked, "Can you commit to that, senator?"
Karina added, "I don't want to disturb you, but at the same time, I just want to know if I can get a commitment from you, senator."
Watch the video below:
A DACA recipient named Karina tried to ask Kyrsten Sinema if she'd support a pathway to citizenship for immigrants and Sinema refused to answer.

If Karina was a corporation and held a giant fundraiser for Sinema, maybe she'd get an answer. pic.twitter.com/DPbPuUe8yl

— jordan (@JordanUhl) October 4, 2021
Just days prior, Sinema was harassed by protesters as she was followed into a bathroom at Arizona State University demanding she support Biden's agenda, as IJR reported.
Advertisement - story continues below
During an event at the White House on Monday, Biden was asked about the video. He replied, "I don't think they're appropriate tactics, but it happens to everybody."
Additionally, he seemingly took a swipe at Sinema and Sen. Joe Manchin (D-W.Va.) for their opposition to the $3.5 trillion spending package.
"I'm able to close a deal on 99% of my party. Two. Two people," Biden said.
Sinema responded to the bathroom incident in a statement of her own, explaining, "Yesterday's behavior was not legitimate protest."
Advertisement - story continues below
She continued, "It is unacceptable for activist organizations to instruct their members to jeopardize themselves by engaging in unlawful activities such as gaining entry to close university buildings, disrupting learning environments, and filming students in a restroom."
According to FiveThirtyEight, Sinema has voted with Biden 100% thus far.
Truth and Accuracy
We are committed to truth and accuracy in all of our journalism. Read our editorial standards.
Comment Down Below
Conversation