News
Biden Says Protesters Accosting Sinema Were Acting Inappropriately, but 'It Happens to Everybody'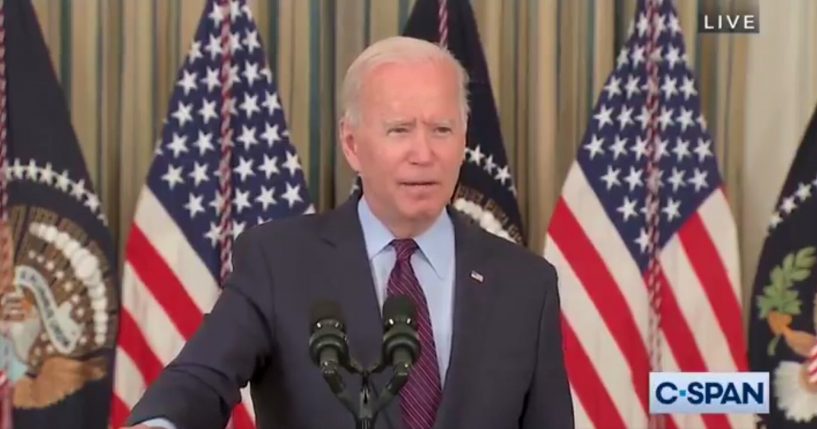 President Joe Biden is denouncing tactics used by protesters who confronted Sen. Kyrsten Sinema (D-Ariz.) over her position on his agenda.
During an event at the White House on Monday, Biden was asked about a video that showed protesters accosting the Arizona senator and following her into a bathroom and whether he believed their tactics were "crossing a line."
"I don't think they're appropriate tactics, but it happens to everybody," Biden responded.
Advertisement - story continues below
He added, "The only people it doesn't happen to are people who have Secret Service standing around them. So it's part of the process."
Watch the video below:
Biden downplays harassment of Sens. Sinema, Manchin: "It happens to everyone" pic.twitter.com/xVNX49qrRv

— Tom Elliott (@tomselliott) October 4, 2021
Advertisement - story continues below
He was also appeared to blame Sinema and Sen. Joe Manchin (D-W.Va.) for holding up his agenda by opposing the $3.5 trillion spending package, as he said, "I'm able to close a deal on 99% of my party. Two. Two people."
When asked if the two senators were responsible for the failure to pass his agenda in Congress, Biden said, "I need 50 senators. I have 48."
Pres. Biden rebukes Joe Manchin and Kyrsten Sinema for not supporting Democrats in the Senate pic.twitter.com/KJ6M0YRXfZ

— NowThis (@nowthisnews) October 4, 2021
A video surfaced over the weekend that showed protesters harassing Sinema and following her into a bathroom at Arizona State University (ASU) over her position on Biden's agenda.
In a statement, the Arizona senator said, "Yesterday's behavior was not legitimate protest."
Advertisement - story continues below
"It is unacceptable for activist organizations to instruct their members to jeopardize themselves by engaging in unlawful activities such as gaining entry to closed university buildings, disrupting learning environments, and filming students in a restroom," she continued.
Sinema went on to say that while she has taught at ASU she is "committed to creating a safe and intellectually challenging environment for my student." However, she said, "Yesterday, that environment was breached. My students were unfairly and unlawfully victimized. This is wholly inappropriate."
Biden's comments come after House Democrats failed to reach an agreement on a roughly $1 trillion bipartisan infrastructure bill and a separate $3.5 trillion spending package.
Progressive Democrats in the House have warned they would block the infrastructure bill unless it was accompanied by the larger spending package. Meanwhile, moderates want a stand-alone vote in the infrastructure bill.
Advertisement - story continues below
However, after the meeting, moderate Democrats said they felt that the president had sided with the progressives and did not fight hard enough for the infrastructure legislation.
Speaking to reporters on Saturday, the president appeared to accept progressives' demands that the two bills be passed together as he said, "There is no reason why both these bills couldn't pass independently except that there are not the votes to do it that way. It's a simple proposition."
"And so, I think it makes sense I support both of them, and I think we can get them both done," he added.
However, if the spending bill passes the house, its fate is uncertain in the Senate, where Sinema and Manchin have said they oppose a spending bill with a $3.5 trillion price tag. If either Sinema or Manchin voted against the bill, it would fail.
Truth and Accuracy
We are committed to truth and accuracy in all of our journalism. Read our editorial standards.
Conversation