News
Psaki Reacts To Backlash From Trump Appointees After Being Asked To Resign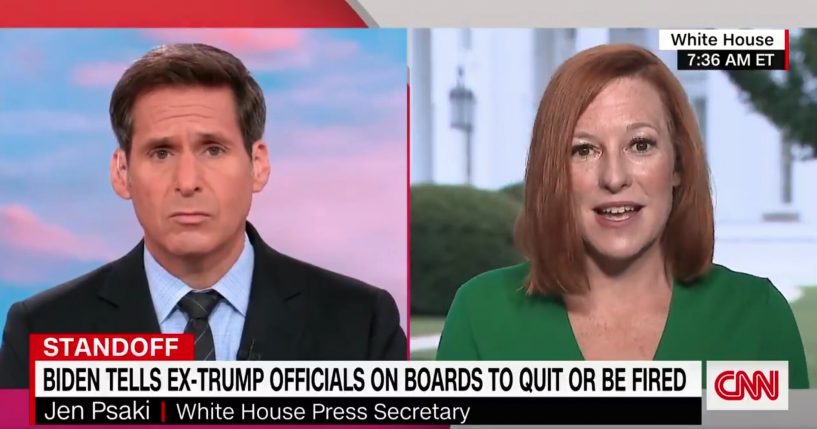 White House Press Secretary Jen Psaki is defending President Joe Biden's decision to ask for the resignations of Trump appointees to military academy boards.
On Wednesday, the president asked Trump appointees to resign from their positions on the boards of visitors of the military service academies, or be fired.
Several of the appointees fired back at the administration and said they would not resign.
Advertisement - story continues below
During an appearance on CNN's "New Day" on Thursday, Psaki addressed the backlash, "No one's looking to have a battle here. The president of the United States, just as every president and every administration and Cabinet members, have the right to appoint people they deem as qualified, as aligned with the administration's priorities to these boards and to any position in the federal government."
Co-host John Berman noted that members of the boards usually serve out their three-year terms and asked why there was "no distinction" between former White House Press Secretary Sean Spicer and former National Security Adviser H.R. McMaster when it came to asking for resignations. 
Psaki responded by reiterating that presidents have the right to appoint individuals who align with their values or who they feel are qualified for the job.
"It's not personal. I will say that there are some people on these boards who have supported or stood by silently while their former boss supported an insurrection. That's not really okay with us," she added.
Advertisement - story continues below
Still, she insisted the request for their resignation was nothing more than Biden and his teaming wanting to appoint a "fresh layer of people."
Psaki said she did not have an "exact update" on whether those who refused to resign had been fired as of Thursday morning.
Do you think Biden should have asked for them to resign?
Watch the video below:
White House Press Sec. Jen Psaki says the administration is asking military academy advisory board members to resign for "a fresh layer of people."

Some "have supported or stood by silently while their former boss supported an insurrection. That's not really OK with us either." pic.twitter.com/1fpgGMwUjJ

— New Day (@NewDay) September 9, 2021
Former Counselor to the President Kellyanne Conway fired back at the administration, saying the move seemed "petty and political, if not personal."
Advertisement - story continues below
"Your decision is disappointing but understandable given the need to distract from a news cycle that has you mired in multiple self-inflicted crises and plummeting poll numbers," she continued. "I am not resigning, but you should."
Spicer reacted to the request for his resignation as he said, "Instead of focusing on the stranded Americans left in Afghanistan, President Biden is trying to terminate the Trump appointees to the Naval Academy, West Point and Air Force Academy."
He also blasted Psaki for appearing to question whether he was qualified for the post as he noted he graduated from the U.S. Naval War College and served in the military.
He added, "When you wear the uniform, you serve the commander-in-chief. We take an oath as officers to the Constitution, not to a party. Each of us chooses how we're going to serve this country. I won't ever question how anyone chooses to do that. I won't question how you choose to do that, Jen. But don't you dare ever minimize or question my service to this nation. You got it?"
Advertisement - story continues below
Meanwhile, Meaghan Mobbs, another Trump appointee and veteran of the war in Afghanistan, told CNN on Thursday that she would not resign because it is "imperative that we do not politicize our military academies."
Truth and Accuracy
We are committed to truth and accuracy in all of our journalism. Read our editorial standards.
Comment Down Below
Conversation