News
Kellyanne Conway, Spicer Fire Back at Biden After Being Asked To Resign From Military Panels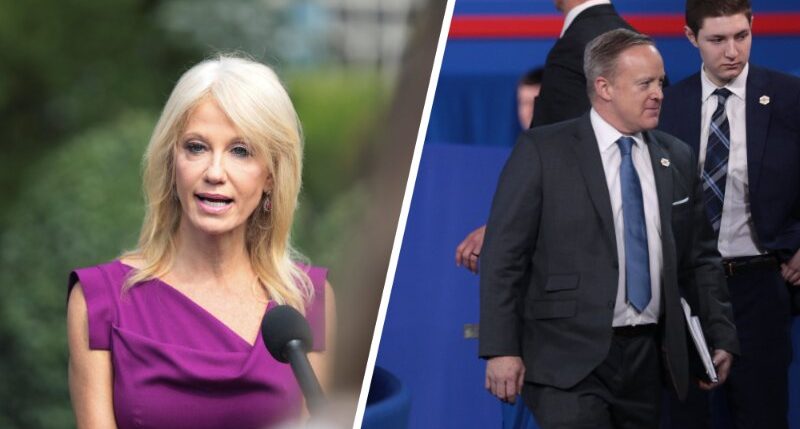 Former counselor to the president Kellyanne Conway and former White House press secretary Sean Spicer are firing back at President Joe Biden after several members of the military academies' advisory boards who were appointed by the former president were asked to resign.
Biden asked all six board members of the U.S. Military Academy Board of Visitors to resign by the end of the day Wednesday or be terminated.
Conway was appointed by Trump to serve as a member on the Air Force Academy board and Spicer served on the Board of Visitors to the Naval Academy.
Advertisement - story continues below
In a letter to the president on Wednesday, Conway wrote, "Three former Directors of Presidential Personnel inform me that this request is a break from presidential norms. It certainly seems petty and political, if not personal."
She added, "Your decision is disappointing but understandable given the need to distract from a news cycle that has you mired in multiple self-inflicted crises and plummeting poll numbers, including a rise in new COVID cases, a dismal jobs report, inflation, record amount of drugs coming across the southern border, and, of course, the chaotic and deadly withdrawal from Afghanistan that has left hundreds of Americans and thousands of Afghan allies stranded under Taliban rule."
Concluding her letter, Conway told Biden, "I am not resigning, but you should."
President Biden, I'm not resigning, but you should. pic.twitter.com/HuRYM4bLYP

— Kellyanne Conway (@KellyannePolls) September 8, 2021
Advertisement - story continues below
Spicer tore into Biden, saying, "Instead of focusing on the stranded Americans left in Afghanistan, President Biden is trying to terminate the Trump appointees to the Naval Academy, West Point and Air Force Academy."
The former press secretary announced during his show on Newsmax he is "joining a lawsuit to fight this."
Is Biden's decision "petty and political"?
He also responded to remarks made by White House Press Secretary Jen Psaki about Biden's decision.
She said, "The president's objective is what any president's objective is–is to ensure you have nominees and people serving on these boards who are qualified to serve on them and who are aligned with your values…I will let others evaluate whether they think Kellyanne Conway and Sean Spicer and others were qualified or not political to serve on these boards."
Spicer explained his decision to join the military "remains one of my greatest decisions in life. For 22 years, I've had the honor of serving alongside some of the most talented, patriotic, and brave individuals this country has to offer. I'm a proud graduate of the U.S. Naval War College. I've done multiple tours, and politics has never entered into my service. I've served under five different presidents of both parties."
Advertisement - story continues below
He added, "When you wear the uniform, you serve the commander-in-chief. We take an oath as officers to the Constitution, not to a party. Each of us chooses how we're going to serve this country. I won't ever question how anyone chooses to do that. I won't question how you choose to do that, Jen. But don't you dare ever minimize or question my service to this nation. You got it?"
Truth and Accuracy
We are committed to truth and accuracy in all of our journalism. Read our editorial standards.
Comment Down Below
Conversation